No reviews, be the first!
Address:

Santa Catalina 210

Hours:

Monday-Saturday: 9am-6pm Sunday: 9am-3pm

Admission:

S15
Museo Santury (Museo Santuarios Andinos)
While there are many notable museums in Arequipa, Museo Santury is known as being one of the best. Its focus is on Andes Mountain archeology and history. Visitors can see exhibits like the famous preserved mummy of 'Ice Princess' Juanita, a young Inca girl who was sacrificed over 500 years ago as part of the Capac Cocha ceremony. This is where children were sacrificed to appease mountain gods. The child is thought to have been about 11 to 15 years old, and the body is so well-preserved it has been mentioned numerous times as one of the world's top discoveries.

Give yourself at least an hour to see everything, as there is also a short informational video to watch before you explore. Additionally, you'll see impressive grave tombs, with other mummies found atop Peru's volcanoes and burial artifacts.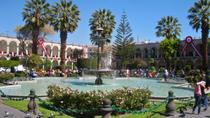 Take a private city tour and discover Arequipa by private van. Explore "The White City" with its monastery and museum, including the famous Juanita ... Read more
Location: Arequipa, Peru
Duration: 5 hours (approx.)