Pasar Badung
One great way to experience a new culture is through its food, and in Bali, that means a visit to Pasar Badung. "Pasar" means "market," and Badung Market is Bali's oldest and largest, located on the banks of the Badung River. Spread over four floors, the market specializes in foodstuffs, including fish, meat, spices and fresh fruits and vegetables from around the island. You'll also see women shopping in the market for ceremonial offerings to take to nearby temples.
The market stays open twenty-four hours a day, but at night, it's mostly filled with wholesalers. It's busy throughout the day, save for a small window in the mid-afternoon when things quiet down. It's best to go in the early morning, when selection is at its best and it's not too hot yet. If you're planning on day-tripping to other areas of the island, Pasar Badung is a great place to pick up items for a picnic lunch.
As with many attractions in Bali, you might be approached by touts offering to "guide" you through the market. Having a guide is really unnecessary, so its best to ignore these offers.
A nice and easy trip into the capital of Bali. During the tour you will be guided to some historical places, a traditional market, get to see a stunning ... Read more
Location: Denpasar, Indonesia
Duration: 10 hours (approx.)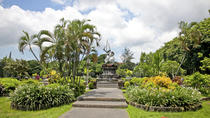 4 Reviews
Admire what Denpasar has to offer during a sightseeing tour of Bali's capital city. Your knowledgeable local guide will show you top attractions, such as ... Read more
Location: Bali, Indonesia
Duration: 4 hours (approx.)
Embark on a brief introduction of Bali, visit the oldest traditional market in Denpasar and Museum of Bali where the government of Bali keeps the collection of ... Read more
Location: Denpasar, Indonesia
Duration: 6 hours (approx.)