Berlin Underground
For a fascinating look into Germany's history during WWII, Berlin has an elaborate set of multi-purpose underground bunkers built to host what is essentially an underground society. Complete with bathrooms, bedrooms, even a Wehenzimmer, a labor room for pregnant women, a tour through this historical wonder will undoubtedly leave you with something to think about.

With more than 40 percent of Berlin's structures actually confined to the underground, its no wonder that Berlin's U-Bahn (underground railway) has become such a popular destination, behind each door possibly lies a labyrinth of bunkers, pipeline walkways, warehouses, tunnels and various other living quarters.

Many of the rooms of the Unterweltern are reinforced with steel and bolted doors that slam behind you as you discover each shocking structure. Creepy in its own right, the rooms have largely remained untouched since they were first built, and are mostly dark and dank, many places decorated with supplies and furniture, and the halls covered with green fluorescent signs meant to guide inhabitants from one place to another.
Practical Info
Get access to the subterranean world through a guided tour, which you can book through Viator.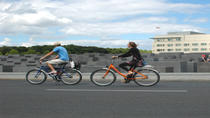 28 Reviews
How could the Germans allow Hitler's rise to power? Who, if anyone, stood in his way? What was known of the extent of the Holocaust, and what was done against ... Read more
Location: Berlin, Germany
Duration: 4 hours 30 minutes (approx.)