Franschhoek
One of the must-see stops on a tour of the Cape Winelands is the historic town of Franschhoek. The town sits just over 45 miles from Cape Town, and it's home to not only some of the area's best wineries but also one of the best restaurants in the world.

Franschhoek is Dutch for "French Corner," which gives you a clue to the town's history. It was established in 1688 by French Huguenot refugees who had fled France to escape religious persecution. Since many of the refugees settled in one area, the Dutch people already living there referred to it as "French Corner" - "Franschen Hoek." The name stuck.

Some of the French settlers began farming, and some of those farms are now well-known wineries. This is why you'll see a combination of both French and Dutch names on local vineyards. Names like La Motte, Chamonix, and La Petite Dauphine coexist alongside Vrede en Lust, Boekenhoutskloof, and Eikehof. Wine tasting tours through the area, including Stellenbosch and Paarl, are very popular day trips from Cape Town.

For an extended wine lover's adventure, however, considering spending at least one night in Franschhoek. The small town is a sweet contrast to the big city of Cape Town, and spending the night gives you a chance to eat in The Tasting Room at Le Quarter Francais, named one of the top restaurants in the world in 2011. You'll need to book well in advance, as reservations are hard to come by, or try the adjacent Common Room instead (inside the same boutique hotel and boasting the same chef, it's a much more budget-friendly option).

Don't miss a stop at the Huguenot Memorial at one end of Franschhoek's main street, or a visit to the Huguenot Museum. You'll gain a new appreciation for the refugees who started this little town.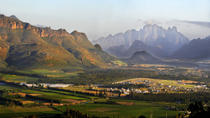 64 Reviews
Location: Cape Town, South Africa
Duration: 8 hours
12 Reviews
Location: Cape Town, South Africa
Duration: 8 hours
3 Reviews
Location: Cape Town, South Africa
Duration: 3 days