Fort San Pedro
The first Spanish settlements in the Philippines were in Cebu City, called the Queen City of the South. After Magellan first landed in Cebu, the Spanish under orders from Miguel Lopez de Legazpi erected Fort San Pedro on what is now Cebu's pier. The ...
Tours & Tickets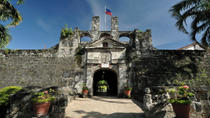 2 Reviews
Discover Cebu's history and culture on a scenic tour on foot and by horse-drawn carriage. You'll visit Old Cebu's heritage sites of Fort San Pedro and ... Read more
Location: Cebu, Philippines
Duration: 3 hours (approx.)
This half-day tour allows you to discover the charm of Cebu's major landmarks and churches, in addition to the fantastic shopping.
Location: Cebu City, Philippines
Duration: 4 hours (approx.)
Explore the Cebu city's rich past with a visit to its cultural and historical landmarks and discover the charm that has earned Cebu the honor of being the ... Read more
Location: Cebu City, Philippines
Duration: 3 hours 30 minutes (approx.)