Riding an elephant through the jungle can be one of the most memorable experiences you can have in Thailand. There are more than a dozen elephant camps operating in the Chiang Mai area offering everything from one hour elephant rides to full-day experiences riding, feeding, and bathing these gentle giants.

Most elephant rides take place in the countryside outside Chiang Mai and sitting high on the elephant's back you'll have great views of the verdant mountains and rice paddies. You'll be amazed how nimble the elephants are as they climb up rocky hills and wade through shallow streams. Each elephant is led by a mahout – a traditional elephant trainer – who communicates with the animal via signals and words.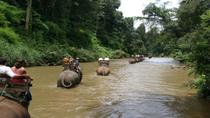 105 Reviews
For the truly adventurous! Approximately 37 miles north of Chiang Mai, situated on the banks of the Ping River, is Chiang Dao Elephant Camp. In an unspoiled ... Read more
Location: Chiang Mai, Thailand
Duration: 7 hours (approx.)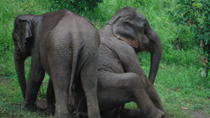 Baanchang Elephant Park is dedicated to providing elephants with the highest quality-of-life possible. The Park is a non-profit organization, meaning the ... Read more
Location: Chiang Mai, Thailand
Duration: Flexible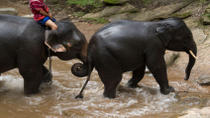 14 Reviews
A pleasant morning is spent in the company of the magnificent gentle giants of Chiang Mai - the Elephant.
Location: Chiang Mai, Thailand
Duration: 3 hours (approx.)