When spring starts warming up, Colorado's white-water rafting season begins! From May to September every year, outdoor enthusiasts head for the Rocky Mountains to take a wet and wild ride on the churning headwaters of Arkansas River.

Buena Vista is handy to some of the best rafting in the state. Nearby Browns Canyon is a popular destination, and once you've spent a morning or afternoon navigating 10 miles (16 kilometers) of rapids, you'll see why. Don't let names like Zoom-Flume, Big Drop and Widow-maker put you off – with thorough safety instructions, professional guide onboard and virtually indestructible rafts, first-timers shouldn't feel intimidated. But if you really want to test your nerves, head out for a full day and have more time to enjoy the amazing scenery of this dramatic chasm with 18 miles (29 kilometers) of rapids.

Alternatively, spend the morning getting to know the Narrows Express after a hearty continental breakfast. You'll be surrounded by majestic peaks in a high alpine setting abounding with wildlife. But don't look around too long – you've got some pretty hairy rapids coming up. Or if you want to combine the best the region has to offer, spend a full day with Narrows Express and Browns Canyon, with a smorgasbord lunch to break up the day.
 
Finally, if you're ready for some of the most challenging rapids on the Arkansas, it's time for The Numbers. Steep drops and numerous rocks demand precision rafting and even the most seasoned professionals allow themselves a sigh of relief once the route arrives at the slightly calmer waters of the Narrows.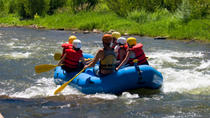 Raft down one of Colorado's most picturesque and exciting rivers – either Clear Creek or the Arkansas River – on this fun-filled day trip from Denver! Clear ... Read more
Location: Denver, Colorado
Duration: Varies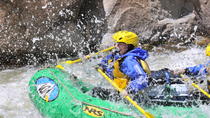 The Arkansas River offers many sections of thrilling whitewater which attract river enthusiasts from all over the world and is the most popular rafting river ... Read more
Location: Buena Vista, Colorado
Duration: 7 hours 30 minutes (approx.)