Coral Coast
The beaches of Fiji's Coral Coast are the loveliest on Viti Levu. A coral reef runs the length of the beach creating a shallow shelf before dropping suddenly into the deep blue of the South Pacific.
Plenty of resorts have sought to enjoy the Coral Coast's natural beauty and they are lined along Queens Road, which hugs the beach. Many travelers are seduced by the pools and floating bars but there are other things to explore along the Coral Coast. These include the amazing dunes at Sigatoka and Tavuni Fort which offers an interesting insight into Fiji's wartime past.
The Coral Coast runs from Korotogo and Pacific Harbor with the best stretch surrounding Korolevu. Diving is a popular activity in this area especially in Beqa Lagoon.
Practical Info
Plenty of buses ply the route between Nadi or Suva and the Coral Coast. The bus trip from Suva is 2.5 hours and from Nadi it is 1.5 hours. From either major town it is easy to catch a taxi.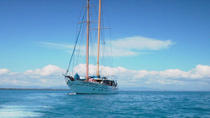 223 Reviews
Snorkel the Fijian coral reefs, swim in the blue water or simply relax and enjoy the natural beauty on this Fijian full-day cruise.
Location: Nadi or Coral Coast, Fiji
Duration: 9 - 10 hours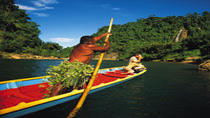 24 Reviews
Take a leisurely boat trip up the Navua River, passing traditional villages and through untouched beauty of waterfalls and gorges, join in a Kava ceremony, ... Read more
Location: Nadi, Coral Coast or Pacific Harbor, Fiji
Duration: 11 hours (approx.)