No reviews, be the first!
Address:

Attahohle Attendorn, Finnentroper Strasse 39

Hours:

Opening hours vary by month, but the cave is open from 11am-3pm.throughout the year

Admission:

Adult: 7.50 EUR, Child: 4.50 EUR
Atta Cave
Also known as Attendorn Dripstone Cave, Atta Cave is located in Attendorn, Germany, and is the country's largest dripstone cave. Filled with stalagmites and stalactites that appear to be dripping from the ceiling, visitors can meander the cave's 262-foot (80-meter) natural corridor below ground. It's fun to think about what these otherworldly formations resemble: People, animals, castles and anything else your imagination can come up with.

You'll be immersed in a bizarre yet beautiful world of stalagmite and stalactite striped curtains, pillars and forest, with the highlight being the otherworldly Kristallpalast (crystal palace) chamber. The startlingly beautiful natural attraction is thought to be over 400 million years old, formed when impure carbon dioxide-rich waters covered the water-soluble rocks. Interestingly, Atta Cave is thought by some to have therapeutic properties for certain ailments like asthma, bronchitis and insomnia.
Practical Info
Opening hours vary.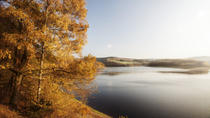 Step into a world of stalagmites and stalactites at Atta Cave – Germany's largest dripstone cave – and then visit medieval Greifenstein Castle! This day trip ... Read more
Location: Frankfurt, Germany
Duration: 8 hours 30 minutes (approx.)