Kadifekale
Kadifekale, also known as The Velvet Castle, presides over the town from its vantage point on top of Kadifekale hill.
Built by General Lysimachos, a successor of Alexander the Great, Kadifekale appears to have acted as both a castle and a fort, giving clear views over much of the city and across to the Gulf of Izmir.
Restoration work is underway at Kadifekale but you can see the castle gate, Roman cisterns, watch tower and some castle walls.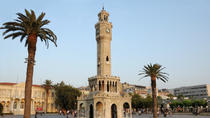 15 Reviews
Location: Izmir, Turkey
Duration: 3 hours