Pretoria is the administrative capital of South Africa and the seat of its government, originally settled by the Ndebele tribe but first established as a town by Afrikaners in the mid-19th century. This city of one million people makes an easy-going contrast to its southern neighbor Johannesburg, offering handsome colonial-era stone buildings and world class museums and cultural facilities.
To get an overview of the city, head for the graceful terraced gardens of the Union Buildings; it was here that Nelson Mandela was sworn in as the first President of a democratic South Africa in 1994. Other attractions include the Transvaal Museum, South Africa's foremost natural history museum, its largest zoo and Freedom Park, a monument to the Rainbow Nation's struggle for equality and reconciliation in the 20th century and beyond.
Practical Info
Pretoria makes an easy day trip from Johannesburg, less than an hour away by car.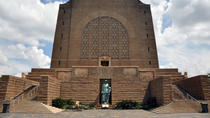 20 Reviews
Location: Johannesburg, South Africa
Duration: 5 hours 30 minutes