Changu Narayan
Changu Narayan Temple, located within easy reach of the town of Bhaktapur in the Kathmandu Valley, has a history as a sacred site dating all the way back to the third century AD, though the double roofed temple that stands in honor of the god Vishnu today was erected after a fire in 1702. Some of the statuary contained within the temple date back to the fourth through ninth centuries.

The ancient temple honors Vishnu as Narayana, or the First Being. The wooden roof supports that are visible on the temple's exterior depict several other deities from the Tantric school, and the stone sculptures surrounding the building depict various other avatars of Vishnu as well as of local kings and queens. The traditional Nepali-style architecture includes intricately gilded windows and four gates, each guarded by a pair of stone animals.

The temple doesn't draw many visitors, making it a peaceful escape from Kathmandu. Only Hindus are allowed inside the main temple when it's open, but there are plenty of sights to enjoy in the courtyards surrounding the main structure. The path to and from the parking lot is lined with shops selling locally crafted masks and Tibetan thangka paintings.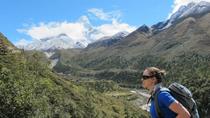 3 Reviews
Embark on a 4-day adventure through the gorgeous countryside surrounding Kathmandu, including three days trekking with a daypack from Shivapuri National Park ... Read more
Location: Kathmandu, Nepal
Duration: 4 days, 3 nights