No reviews, be the first!
Address:

Durbar Square

Hours:

Tuesday-Saturday: 10:30am-4pm (Feb-Oct), 10:30am-3pm (Nov-Jan); Sunday: 10:30am-2pm

Admission:

Rs 250
Hanuman Dhoka
Hanuman, a mischievous Hindu deity in the form of a monkey, was one of Rama's most loyal devotees in the great Indian epic Ramayana. Today the Hanuman Dhoka serves as the eastern gate to the royal palace at Durbar Square where a likeness of Hanuman stands guard. The statue, dating back to 1672, is dressed in a red robe with an umbrella over his head, and visitors often leave ceremonial offerings at his feet.
While many of the old palace structures contained within the courtyard of Hanuman Dhoka are closed to the public, the square itself is well worth a visit. Check out the Hanuman statue as well as the old audience chamber of the Malla royalty and the intricately worked gate through which you enter the courtyard area.
Entrance into Hanuman Dhoka is included in the Durbar Square fee. Set aside at least a half-hour to explore the courtyards and ancient temples of the complex, but remember that photography is only permitted in the outdoor courtyards. Look for an inscription in the wall of the palace; it's written in 15 different languages and, according to local legend, if someone successfully deciphers the inscription in every language, milk will begin flowing out of a nearby spout.
Please note that the Hanuman Dhoka Palace partially collapsed in the
earthquakes and subsequent aftershocks in Nepal
in late April and early May 2015. Authorities have said they will do all they can to restore historic and cultural sites in Nepal and are assessing the extent of damages.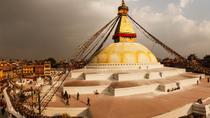 This Kathmandu Valley at Glance Tour is designed covering major highlights of Kathmandu with 5 UNESCO Heritage Sites i.e. Kathmandu Durbar Square, ... Read more
Location: Kathmandu, Nepal
Duration: 3 days (approx.)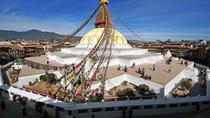 Kathmandu day tour Includes - Kathmandu Durbar Squire, Swayambhunath, Pasupatinath and Bouddhanath are included on this day tour.
Location: Kathmandu, Nepal
Duration: 1 day (approx.)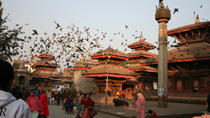 This 6-hour sightseeing tour of the World Heritage Sites in Kathmandu will give you an opportunity to witness the ancient art, culture and traditions of ... Read more
Location: Kathmandu, Nepal
Duration: 6 hours (approx.)