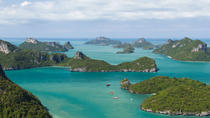 By Viator, April 2015
Koh Samui is one of the most spectacular getaways in all of Thailand ? and the world. Its pristine beaches and beautiful, clear green seas are just two of the reasons you?ll have a hard time leaving. ... Read more

By eva_afta , November 2010
There is a good fishing tour in Koh Samui where my brother caught a fish with an eel in its mouth!! It was an enjoyable day had by all!

By John Reality , Cambodia, August 2011
Long the closely kept secret of lucky backpackers in search of an affordable escape, the 95 square miles of Koh Samui have been evolving into a playground of the rich since the early 1990s. If you ... Read more

By eva_afta , November 2010
The Red Snapper is by far the best restaurant in Koh Samui which is probably because run by an AUSSIE!!

By eva_afta , November 2010
While in Koh Samui we went riding on ATVs up in the mountains which was an awesome experience and a great way to see the landscape. When we went it had just recently rained and so it was all misty ... Read more