1 Reviews
Address:

68 Honmachi

Hours:

Open daily Sept - May 9am - 4pm (until 5pm Jun - Aug). Closed Dec 29 - 31

Admission:

Adults: ¥600, Children (3-14yrs): ¥200
Himeji Castle
If you take a day trip from Kyoto or Osaka, make it Himeji. The famous many-tiered white castle at Himeji is acclaimed as Japan's most beautiful and complete historic citadel.
Known as the White Egret, the hilltop castle was built in 1580. The main features are its five-story central tower and surrounding moats, walls and pagodas. From its mountain-top eerie, the castle appears to float on a sea of Japanese pine trees.
Take an organized tour to discover the castle's history and many nuances, such as the many openings in the defensive walls that were used for pouring boiling oil onto intruders.
The castle grounds are flanked by the ponds and tea rooms of Koko-en Gardens, a welcome retreat for a stroll or lunchtime stop.
Please Note: Himeji Castle is undergoing major renovation. The castle is expected to reopen fully on March 27, 2015.

From Spring 2014 to the end of March 2015, the exterior scaffolding will be removed, but the interior of the castle will continue to be off-limits to visitors. The castle exterior should be visible again around August 2014, and fully open to the public again at the end of March 2015.
If you are in the area, there are some alternative castles you can visit during Himeji's renovation.
Hikone Castle, not far from Kyoto, is one of four castles listed as National Treasures of Japan (Himeji Castle included). It's one of the few castles that contains it's original framework and wooden interior.
Another alternative is Osaka Castle. Though its castle keep has recently been renovated to include a modern museum inside, it's still an impressive and beautiful castle to visit. 
Practical Info
Himeji is around 50 km (31 mi) west of Kyoto. To get here, either take an organized tour or jump on a shinkansen bullet train (under an hour) or slower JR Tokaido train (a bit more than 1.5 hours).
This full-day walking tour takes you to one of Japan's national treasures: the UNESCO World Heritage-listed Himeji Castle. Leave by rail from Osaka for a visit ... Read more
Location: Osaka, Japan
Duration: 8 hours (approx.)
Embark on a full-day walking tour to the UNESCO World Heritage site of Himeji Castle. You'll take public transportation from Kyoto to Hyogo with a guide to the ... Read more
Location: Kyoto, Japan
Duration: 9 hours (approx.)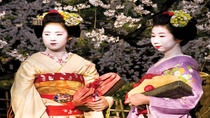 Discover the cultural highlights of Japan, from the neon-lit streets of modern Tokyo to the ancient temples of Kyoto, on this 14-day tour through the Land of ... Read more
Location: Tokyo, Japan
Duration: 14 days, 13 nights