Bergamo
The city of Bergamo is really two cities, an old and a new, and the historic one is a popular day trip from Milan. Bergamo has an old city center on a hill, and a newer city that has spread out from there. The old city, known as Città Alta (high city), is the main attraction for visitors. This medieval town center is circled by 17th century Venetian walls (still intact) and is all cobblestone streets and historic buildings. There is very little automobile traffic in the Città Alta.
One of the main sights in the Città Alta of Bergamo is the Colleoni Chapel, built in the 15th century and ornately decorated both inside and out (the facade is truly spectacular). It's attached to the 12th-century Basilica di Santa Maria Maggiore.
Practical Info
Bergamo is roughly 31 miles from Milan, just under an hour by train. The train station in Bergamo is in the newer Città Bassa (low city), and you can reach the Città Alta from there either by bus right from the train station or by walking to the funicular at the base of the hill. A transport ticket costs €1.25, is good for 75 minutes of travel time, and is accepted on both the bus and funicular.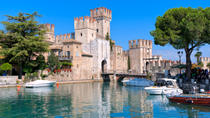 12 Reviews
Visit four of the must-see lakes in the Italian Lake district as well as the city of Verona, on a 4-day tour from Milan! With a mix of free time and tours, ... Read more
Location: Milan, Italy
Duration: 4 days (approx.)