Genoa
The Italian port city of Genoa remains off the radar for most tourists in Italy even though it's a major port and one of the largest cities in the country. Thus, anyone who makes a point of stopping in Genoa (Genova in Italian) is treated to a bustling city with much to offer and a somewhat refreshing lack of tourist crowds.

Genoa's historic center is well worth exploring. One of its main streets, Via Garibaldi, dates back to the 16th century and is on the list of UNESCO World Heritage Sites. The busy waterfront is a short walk from the historic center, which makes a day trip easy for visitors from the many cruise ships that stop in Genoa. Not to mention how nice it can be to cap off a day in the city center with a stroll along the waterfront promenade.

The city of Genoa, where Christopher Columbus was born, has historic ties to the water. This is evident in its iconic lighthouse (which you can climb) and aquarium (the second largest in Europe). If you're familiar with the nearby towns of the Cinque Terre, you may already know about the popularity of seafood in Liguria - and the same goes for Genoa. Additionally, this is the city that gave the world pesto - you've probably seen it called "pesto Genovese" before.

Cruise ships certainly leave their mark on the city as they empty crowds into the historic streets, but aside from those day trippers (many of whom choose to head straight for Portofino or the Cinque Terre) there aren't nearly as many visitors headed for Genoa as there are to other Italian cities. You may need to brush up on a little more Italian for a visit to Genoa, and you may not find world famous landmarks, but you'll be rewarded with a genuine Italian city full of delightful shops, restaurants, and piazzas to explore. Why not conjure your inner Columbus and pretend you've discovered this hidden gem?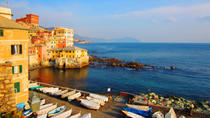 70 Reviews
See the best of the Italian Riviera on your Genoa and Portofino full-day trip from Milan! After a guided walking tour of Genoa, explore the best bits of these ... Read more
Location: Milan, Italy
Duration: 12 hours (approx.)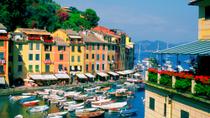 2 Reviews
Combine rugged coastal scenery with chic seaside towns on a 4-day tour of Liguria in northern Italy! After leaving Milan, head to Genoa – Liguria's ... Read more
Location: Milan, Italy
Duration: 4 days (approx.)