Moorea is known for its worthwhile land and water-based outdoor activities, which are what lure most visitors to the island.

For starters, the island is renowned for having some of the world's best snorkeling. Crystal waters showcasing colorful corals, sea turtles, manta rays, moray eels, dolphins, sharks and over than 500 species of tropical fish can be explored all over the island. The best place to snorkel on Moorea is in the Hilton Moorea Lagoon Resort & Spa's lagoon, as the deep yet clear waters are abundant with vibrant underwater flora and fauna.

Another worthwhile option is on the secluded beach of Opunohu Bay, which offers a serene snorkeling experience. Additionally, Lagoonarium features a closed-off section of a lagoon near Motu Ahi, accessible by a quick boat ride, and gives visitors the chance to swim with hundreds of marine animals as well as nurse baby sharks.

If you're a diver, you can go deeper into Moorea's underwater world for the chance to see shark dens as well as deep coral rose gardens. One of the island's top dive sites is Tiki Point, featuring crystal waters and depths of 75 feet (22.8m). The spot is plentiful with Black Tip sharks, Grey Reef sharks, Lemon sharks and sometimes dolphins and whales.

Another worthwhile site is The Garden of Roses, which stretches down 120 feet (36.5m) to a world renowned underwater rose garden where big sharks love to play. Because this dive can be challenging, an Experienced Diver Certification is recommended, and mandatory if you go with a company. Other notable dive sites include Aito, Shark's Dining Room and The Opunohu Canyons.

Along with underwater adventure, Moorea offers opportunities for land-based exploration, especially through its large trail system. The island features hikes for all levels, offering diverse scenery options, as well. Something slightly challenging yet scenic is the Vaiare to Pao Pao trek. From the Vaiare Ferry Point, you'll follow a path from the main road into the forest, keeping to your left. While the uphill climb can be steep at times you'll be rewarded once you reach the ridge, awarding spectacular aerial views of Moorea's rugged peaks, Cook's Bay, Opunohu Bay and even the island of Tahiti. Continue on the trail to make your way down to Pao Pao and the beautiful Cook's Bay.

Those looking for something difficult can opt to climb Mt Rotui, the lush pyramid-shaped mountain separating Cook's and Opunohu Bays. Its rocky spur reaches 2,951 feet (900m), making you feel like you're in the clouds once you reach the summit. Be prepared for steep and precarious sections, rugged terrain and slippery conditions when it is wet. A guide is recommended for this hike to not only help you navigate the route but also get permission from the land owner to be on the property. Panoramic views of Cook's Bay, Opunohu Bay and the surrounding mountains, villages and valleys can be enjoyed from the top.

If you want to see a waterfall, the trek to Afareaitu Waterfalls can be worth the adventure. Drive down the unmarked dirt road located between the Ah Sing Market and protestant church in Afareaitu until you can't go anymore. This is where you'll get out and hike for about 30 minutes uphill through jungle, mud, volcanic rock and sometimes even knee-deep water until you reach the secluded falls. Bring your bathing suit as the natural rock pool below is perfect for a swim.

Kayaking is a great way to experience the beauty of Moorea's landscape in a relaxing yet active manner. You can rent kayaks to take out on one of Moorea's crystal lagoons or white sand beaches. One popular kayaking activity is kayaking to a motu, from example, from Tiahura to Motu Fareone or Motu Tiahura or Afareaitu to Motu Ahi.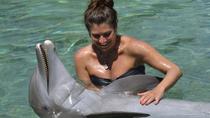 Location: Moorea, French Polynesia
Duration: Varies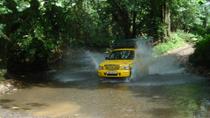 2 Reviews
Location: Moorea, French Polynesia
Duration: 3 hours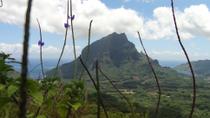 2 Reviews
Location: Moorea, French Polynesia
Duration: 3 hours