Terrace of the Lions
The famous Terrace of the Lions is a signature image of Delos, as key to the island as the whitewashed windmills of Mykonos. The Terrace of the Lions was dedicated to Apollo in around 600 BC. Originally, there were up to a dozen big squatting ...
4 Reviews
While you're in port in Mykonos, head out on a private shore excursion to enjoy the best of the island, from traditional houses to historical wonders. Explore ... Read more
Location: Mykonos, Greece
Duration: 2 hours 30 minutes (approx.)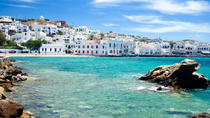 2 Reviews
Enjoy all Mykonos has to offer, from beautiful sandy beaches to archaeological wonders to the extravagant nightlife!
Location: Athens, Greece
Duration: 4 days (approx.)