8 Reviews
Address:

63 Flushing Ave #300

Hours:

Open Mon-Fri, 8am-6pm, Closed Saturday & Sunday.
Set on the Brooklyn shore of the East River's Wallabout Bay, directly between the Manhattan and Williamsburg Bridges, this shipyard was once America's largest. Utilized by the U.S. Navy since 1801, it saw the building of some of the country's most renowned fighting ships, including the USS Maine and USS Missouri. Remaining attractions within the Yard include a 24-acre Naval hospital campus and a dry dock that pre-dates the Civil War and is still in use for ship repair today.

The Navy Yard reached its peak of operations during World War II, when 70,000 employees worked here around the clock. After a period of decline in production, the shipyard was decommissioned in 1966 and a few years later the entire yard was purchased by the City of New York.

Today, the Brooklyn Navy Yard is a 300-acre industrial park operated by a non-profit organization, the Brooklyn Navy Yard Development Corporation, with over 40 buildings, leased by more than 330 companies in a wide range of industries, from commercial ship repair to movie and television production to green manufacturing.  One building houses BLDG 92, a LEED-Platinum Visitor Center that includes exhibitions about the past, present, and future of innovation at the Brooklyn Navy Yard and a café that overlooks the site. From World War II history to sustainable architecture and industry, there are various tours of the Yard available, including theme-based bus and bike tours start and end at BLDG 92.  A portion of all ticket proceeds go to support the Visitor, Exhibition, and Employment Center at BLDG 92.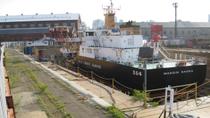 8 Reviews
See a unique part of New York City and learn something new about US history on this guided tour of Brooklyn Navy Yard, located on the borough's historic ... Read more
Location: New York City, New York
Duration: 2 hours (approx.)