Located in southern Brooklyn, people head to Coney Island for its famous hot dogs, amusement park and popular beach and boardwalk. Coney Island has been attracting visitors since the 1830s -- especially Manhattan residents who thought it to be ...
Tours & Tickets
459 Reviews
Craving authentic New York pizza? Look no further than this New York Pizza Tour, which includes a lunch stop at First Lady Michelle Obama's favorite pizzeria, ... Read more
Location: New York City, New York
Duration: 4 hours 30 minutes (approx.)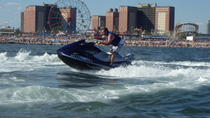 Join this exhilarating 90-minute Jet Ski expedition to New York City's Coney Island, Rockaway beaches and into the Atlantic Ocean.
Location: New York, New York
Duration: 90 minutes (approx.)