Now home to Brooklyn's Chinatown, this historic area is bordered by four neighborhoods: Greenwood Heights (north), Borough Park (east), Bay Ridge (south), and Upper New York Bay (west).  

Originally a European immigrant community that grew up around the Bush Terminal, the largest shipping, warehousing and manufacturing complex in the U.S., and later the Brooklyn Army Terminal, Sunset Park experienced its greatest boom between 1895 and the end of World War II. The building of shipping and trucking facilities in nearby New Jersey gave rise to suburban sprawl, and many of Sunset Park's European immigrants left the area in the 1950s and early '60s in pursuit of employment.

The area's empty rowhouses lost value, creating real estate opportunities for new immigrants from Puerto Rico, the Dominican Republic and Mexico. These immigrants brought a vibrant mix of Latin shops, design and flavors to the area, some of which still remains today. The increasing Latino population, coupled with a mid-1970s wave of Christians from India, inspired Sunset Park's still-lingering Norwegian-American community to bid the neighborhood farvel ("goodbye" in Norwegian) by the 1980s.

As they were exiting, Cantonese immigrants were taking their place.  Soon after, a larger influx of Chinese from Fuzhou started moving in, and since the late 2000s, a Mandarin-speaking community has started to grow here. The result is a full-fledged Chinatown in Sunset Park, a district of Buddhist temples, shops, restaurants, grocery markets, etc., often called "Little Fuzhou" due to the provenance of its largest Chinese population.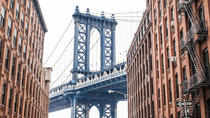 326 Reviews
The new culinary center of the Big Apple, where food and dining trends are dispersed to the rest of the country, is Brooklyn. And with this half-day tour, you ... Read more
Location: New York City, New York
Duration: 4.5 hrs