At Orlando's Walt Disney World Speedway, spectators become participants in a white-knuckle test of endurance, nerves and reflexes. We're talking real track, real cars, real speed! Enjoy these great days out for yourself or give the experience of a lifetime to the NASCAR fan in your life.
Find out what it's like to race the circuit in the Ride-Along Program which puts you in a real two-seater stock car. Strap yourself in and hold on as your professional driver does three thrilling circuits of the raceway at up to 145 miles (233 kilometers) per hour.
But if riding pinion isn't enough for you and you're itching to get your hands on the wheel, you want the Drive Along Rookie Experience, where you'll have 600 horsepower at your command. You'll be fully briefed in an orientation session, drivers' Q&A and trackside instruction before you put on the helmet, neck guard and driver's suit and finally put the pedal to the metal. After eight amazing circuits of the Speedway you'll come away with a lap-time sheet, certificate and photos ensuring bragging rights forever after.
What, you want more? Think you can handle eighteen laps? The Kings Experience really sorts the speed demons from the Sunday drivers. You'll get all the same thorough instructions and certificate, but with an extra ten laps you can really give your driving skills a work out. And the only thing better than that is the ultimate test of motoring excellence: the Richard Perry Experience, over an incredible thirty laps. Broken down into three sessions, you'll get tips between each one to improve your performance.
Of course, you were hardly going to come all this way without visiting the home of stock car racing, Daytona International Speedway. Take part in a pit-stop challenge, see the Daytona 500 as never before in an IMAX presentation and tour this world-famous racing center. Afterwards take to the water in an airboat and spot alligators before relaxing with a Florida-style barbecue.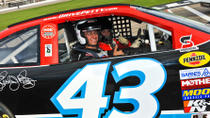 4 Reviews
Ride shotgun in a real NASCAR race car at Daytona International Speedway! With a professional instructor as your trusted driver, enjoy a 3-lap run around this ... Read more
Location: Orlando, Florida
Duration: 15 - 30 minutes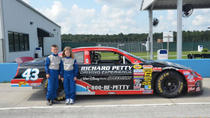 Enjoy unforgettable racing thrills at Daytona International Speedway, home to the world-famous DAYTONA 500! Perfect for kids ages 6 to 13, this exciting race ... Read more
Location: Orlando, Florida
Duration: 15-30 minutes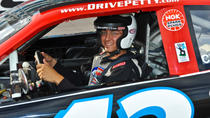 Think you can handle white-knuckled, heart-pounding speed just like the pros? Then head to the Daytona International Speedway, home to the world-famous DAYTONA ... Read more
Location: Orlando, Florida
Duration: 3 to 5 hours