Palm Springs RECOMMENDATIONS See all
Visiting the San Andreas Fault from Palm Springs
By Viator, November 2014
No reviews, be the first!
Come see one of the largest fault lines in the world - the San Andres Fault! Forming the very backbone of California, the San Andreas Fault extends 810 miles up the ridgeline of California and is the visual and literal point where two of the earth's largest tectonic plates meet. Seeing this amazing line in the movable forces that shape our world is a special experience indeed, and it's one that's easily accessible during your time in Palm Springs.

Known known far and wide as a source of fascination, discovery, mystery, and fear due to its truly awesome power to recreate the earth, the San Andreas Fault line has been a source of wonder for as long as humans have inhabited North America. As sunset falls and the stars come out, seeing the Fault in person puts the stark desert beauty in high contrast, and gives you an unprecedented feeling of connectedness with nature.  A fascination point for geologists and tourists alike, come take a rare glimpse into the living, moving nature of Mother Earth.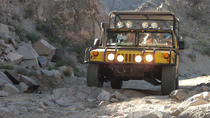 Hop in a Hummer and prepare to be dazzled by this 3-hour desert tour. First stop, the infamous San Andreas Fault. Learn from your expert local guide about the ... Read more
Location: Palm Springs, California
Duration: 4 hours (approx.)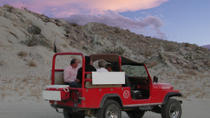 4 Reviews
Journey by open-air Jeep from Palm Springs at sunset through the California desert to experience stargazing at its best! Explore the canyons along the San ... Read more
Location: Palm Springs, California
Duration: 3 hours (approx.)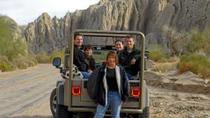 6 Reviews
Come see where earthquakes are born on this San Andreas Fault tour! Enjoy a fun open-air Jeep ride through the most colorful portion of the world-famous fault ... Read more
Location: Palm Desert, California
Duration: 3 - 4 hours