Palm-lined Amador Causeway is famed for the fantastic views of Panama's skyscraping downtown, a yacht-strewn panorama across the Panama Bay to the graceful steel span of the Bridge of the Americas at the entrance of the canal. Scenic running paths follow the water, paved with stones used in the Canal's construction, along a causeway that stretches almost 3km (2mi) into the Pacific, connecting the city to three small islands: Noas, Perico and Flamenco.

Visitors from around the city and world come to here to play, plied by upscale shopping centers and local vendors displaying their wares to crowds strolling the causeway. It's also the city's hippest nightlife district, home to elegant bars, casual clubs and other entertainment venues.
Practical Info
Wear a hat and sunscreen to best enjoy mostly shadeless Amador Malecón, with its magnificent views, fresh sea breezes, and festive attractions. Weekends get crowded.

Note that several local businesses, including taxis, inflate prices to take advantage of the cruise-ship set; be aware of inflated prices and avoid them.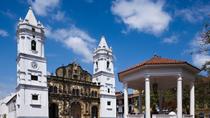 73 Reviews
See the best of Panama City — from sea level to hilltop, canal to islands — on this full-day sightseeing tour with a knowledgeable local guide, who will regale ... Read more
Location: Panama City, Panama
Duration: 7 hours 30 minutes (approx.)
Get to know the Miraflores's Panama Canal Locks, the Panama Old Town and the Causeway of Amador on this 5-hour tour.
Location: Panama City, Panama
Duration: 5 hours (approx.)
Get to know the Miraflores's Panama Canal Locks, the Panama Old Town, the Causeway of Amador and the Seafood Market on this 6-hour tour. If you come to ... Read more
Location: Panama City, Panama
Duration: 6 hours (approx.)