Camelback Mountain
Camelback Mountain is an iconic mountain visible throughout most of the phoenix metropolitan area. Towering over the city at 2,704 feet (824 meters) above sea level, the mountain was named after its very obvious resemblance to a resting camel. The mountain features unique sheer red sandstone cliffs as well as a variety of desert wildlife. Some of its more popular desert animals include Rock Squirrels, Gila Monsters, Javelinas, Coyotes, and Grey Foxes. These natural wonders make the mountain a very popular hiking and rock climbing location.
Although it is possible to hike to the top of Camelback, both trails are a strenuous undertaking and are only recommended for advanced hikers. Echo Canyon Recreation Area does, however, offer two easier hiking options for those less advanced hikers. All trails offer the ability to experience desert wildlife up close, as well as admire Camelback's unique geological formations.


Practical Info
Camelback Mountain is located in the Camelback Mountain Echo Canyon Recreation Area, towards the northern end of the phoenix metropolitan area between the neighborhood of Arcadia and city of Paradise Valley.
Near the camel's "head" is a popular rock formation known as The Praying Monk. Like Camelback Mountain, this formation is made of red sheer sandstone rock and is named after its appearance. The 100ft (30 meters) tall formation vaguely resembles the image of a man kneeling in prayer. The Praying Monk is one of the most popular rock climbing locations on Camelback Mountain and maintains permanent anchor bolts for belay rope. Although the climb is not extremely advanced, visitors are required to approach the climb with caution while taking all necessary safety precautions.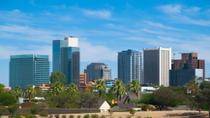 19 Reviews
Travel in air-conditioned comfort around the fascinating city of Phoenix. See the Old and New West as you visit the State Capitol, Camelback Mountain,the ... Read more
Location: Phoenix, Arizona
Duration: 4 hours (approx.)