Rio de Janeiro RECOMMENDATIONS See all
Rio de Janeiro Carnival
By Viator, November 2013
No reviews, be the first!
One of the biggest crowd pullers for the Cidade Maravilhosa of Rio de Janeiro is its annual Carnival and Mardi Gras celebrations, attracting over 500,000 foreign tourists each year.  During the four day carnival period the already lively city of Rio takes partying to an all new level with city wide celebrations. Ironically, it's the storm before the lull as everyone goes on a binge two weeks before the start of lent. The carnival will take place between March 4th and March 8th in 2011 and between February 17th and February 21st in 2012. While many fly down to Rio from far and wide especially to experience this mega event, the Carnival period may not be the best time to visit the city if you're in search of a quiet, scenic vacation away from the maddening crowds.  For crowds is exactly what the carnival is known for… hordes of merry revelers indulging in music, dance, food and drink on an unprecedented scale! The four-day festivities end with Mardi Gras celebrations on Fat Tuesday or Shrove Tuesday.

The carnival has come a long way since it started in the 1830s. Today it is reflective of the Brazilian culture, complete with elaborate costumes, gala balls and colorful floats. Of course, no Brazilian party can be devoid of Samba, so not surprisingly, the carnival mega event is the Samba School Parade at the Sambadromo with over 60,000 participants and 14 top samba schools. As you can imagine, prices soar during the carnival period and it is advisable to book your air tickets and hotel room much in advance to avoid paying exorbitant season rates. Also carnival tickets tend to sell out closer to event dates and should ideally be booked before hand as well. When the time comes, put on your dancing shoes and don't forget to pack your samba costume!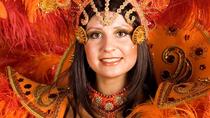 Revel in the all-night excitement of Rio de Janeiro's annual Carnival (Carnaval) parade, famous throughout Brazil – and the rest of the world – for its ... Read more
Location: Rio de Janeiro, Brazil
Duration: Varies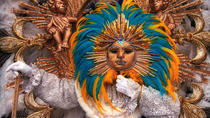 Experience the thrill of Rio de Janeiro's Carnival with a week of festivities that will make your head – and feet – spin! Take to the streets and the ... Read more
Location: Rio de Janeiro, Brazil
Duration: 6 days (approx.)