San Ignacio RECOMMENDATIONS See all
Day Trips to Tikal and Eastern Guatemala From San Ignacio
By Viator, February 2014
No reviews, be the first!
Because of its western location, close to the border town of Benque del Viego, San Ignacio is a relatively short ride away from Guatemala and Tikal National Park, a World Heritage Site since 1979, with the highest and most important Mayan structures in Central America. Covering over 200 square miles, it's a stunning place that's well worth the visit.

The best way to reach Tikal is by hiring a driver or tour company from San Ignacio, as there is no direct public transportation from town or even from neighboring Benque del Viego and the roads are difficult, taking at least two and a half hours long. Passports are required, as you will have to pass through immigration at the border, a relatively hassle-free process. You'll ride through the Guatemalan countryside, with beautiful views of lakes and village life. The park's interior will keep you busy, between hiking and wildlife spotting to viewing and climbing up to the top of the structures.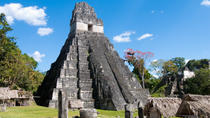 Take a day trip from San Ignacio to the Mayan ruins of Tikal, located in the UNESCO World Heritage-listed Tikal National Park (Parque Nacional Tikal). A ... Read more
Location: San Ignacio, Belize
Duration: 9 hours 30 minutes (approx.)