130 Reviews
Address:

Kaesŏng

Hours:

Visits can only be made as part of an organized tour group.

Admission:

Tour pricing varies
Joint Security Area (Panmunjom)
Visit the "truce village" on the border of South and North Korea, known as the Joint Security Area (JSA), to get a glimpse of the still simmering Cold War tensions that remain here more than 50 years after a truce on this spot ended the hostilities of the Korean War. The two countries technically remain at war to this day, and Panmunjom—located deep within the demilitarized zone (DMZ)—is the only place in the country where visitors to South Korea can see the actual border, complete with North Korean soldiers stationed on the other side.
Within the town, there is even a spot where visitors can cross the border, no visa required. The Military Armistice Commission (MAC) Conference Room is a blue building bisected by the border—still used for face-to-face negotiation between the two sides—where you can technically cross into North Korean territory by walking to the other side of the room.
Practical Info
Panmunjom sits less than 40 miles from Seoul. However, visits can only be made as part of an organized tour group, which includes strict rules of conduct, dress codes and restrictions on photography to avoid starting an incident with the North Korean soldiers.
113 Reviews
While in Seoul, travel to the Korean Demilitarized Zone (DMZ) and Panmunjom – officially known as the Joint Security Area (JSA) – and experience the infamous ... Read more
Location: Seoul, South Korea
Duration: 9 hours (approx.)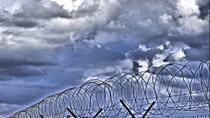 8 Reviews
Let an informative guide escort you on a private tour of the Korean Demilitarized Zone (DMZ), following the North Korean spy commandos' invasion route and ... Read more
Location: Seoul, South Korea
Duration: 10 hours (approx.)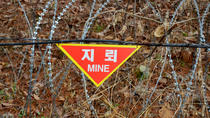 9 Reviews
This day trip from Seoul takes you by comfortable coach to the Joint Security Area (JSA), located near the infamous border that divides the Korean peninsula ... Read more
Location: Seoul, South Korea
Duration: Tue to Fri - 8 hrs (approx)
Sat - 7 hrs (approx)