Cefalu
The Sicilican town of Cefalù, on the island's northern coast, is one of the many popular beach towns in Sicily. Cefalù may be small, but the population swells exponentially in the summer months as vacationers hope to escape the city heat and get closer to water. During the rest of the year, however, Cefalù can be quiet, making off-season visitors feel like they've discovered a slice of untouched Italy.

The historic attractions in Cefalù include the city's cathedral and an art museum, but the primary reason visitors flock to the town is the beach. The beach is within easy walking distance of the town center, so you can spend a lazy day wandering between the two, or rest assured you're within staggering distance of your bed when the sun has finally worn you out for the day.

If you need other non-beachy things to do in Cefalù, consider a hike up "La Rocca," where you'll be rewarded with lovely views overlooking the town. You can also check out the 4th century archaeological site of the "Tempio di Diana" (Diana's Temple), located on La Rocca as well. Cefalù is a one-hour train ride from Palermo, which makes for a good day trip. Another good day trip option is to take a hydrofoil out to the nearby Aeolian Islands.

Cefalù is on the train line that connects with Messina, where many ferries from the Italian mainland arrive. Trains from Messina toward Cefalù run regularly, especially during the summer. There are some buses that run along the coast, too, but for the most part if you plan to explore more of Sicily you'd be smart to rent a car.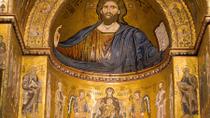 1 Reviews
Visit the Duomo of Monreale and the beautiful town of Cefalù, where you will see the Medieval lavatory, Mandralisca Museum and the historical center.
Location: Palermo, Italy
Duration: 6 hours (approx.)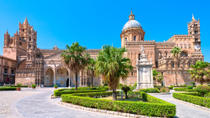 11 Reviews
Visit Palermo and Cefalù on a day trip from Taormina, and discover stately Arab-Norman architecture, impressive churches and piazzas with Sicilian charm! ... Read more
Location: Taormina, Italy
Duration: 13 hours (approx.)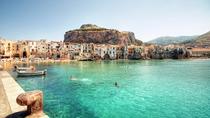 2 Reviews
The medieval town of Cefalù is about one hour from Palermo, along the North coast of Sicily.
Location: Palermo, Italy
Duration: 4 hours (approx.)