1 Reviews
Address:

Piazza del Campo

Hours:

Mid-Mar - Oct: 10am-7pm, Nov - mid-Mar:10am-5.30pm or 6.30pm. New Year's day: 12pm-6pm. Closed Christmas.

Admission:

Adult/Student €7.50/4.50, Museum & Tower €12
Museo Civico
The Palazzo Pubblico is hard to miss. A magnificent stone and red brick building begun in 1297, with excellent towers and crenellations, it is everything one could hope for from a Gothic town hall. Situated on the lower side of the Piazza Campo, the building is shaped to fit the design of the civic square and has a subtle curve to it.

These days it retains its government functions and also houses the city museum, Museo Civico, which is well worth a visit for its frescoes, paintings and sculptures. The Sienese school was artistically significant and the late medieval frescoes were some of the first to depict non-religious themes. Instead they made statements about government, justice and patriotic devotion. The most significant is the huge fresco cycle of 1337 by Ambrogio Lorenzetti, entitled Allegory of Good and Bad Government; it's not difficult to get the painting's message.

The city was not turning its back on religion completely and there are also striking paintings of the Virgin including Simone Martini's Maesta (Virgin Mary in Majesty), his first known canvas dating from 1315, and also Taddeo di Bartolo's Storie della Madonna of 1407, depicting stories from the life of the Virgin Mary. Dating from much later, you'll even find frescoes depicting the Unification of Italy in the late 19th century. Museo Civico is history in art.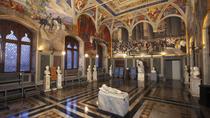 Discover the treasures of the Civic Museum in the Public Palace, superb example of Gothic architecture and symbol of the city of Siena. It preserves beautiful ... Read more
Location: Siena, Italy
Duration: Flexible