One of the most beautiful coastal cities of Slovenia, locals and visitors alike enjoy a little taste of Italy in Piran. It is considered a national treasure and monument for its beautiful Venetian architecture and endless photographic opportunities. 
Architecture lovers will enjoy the Venetian House, built on the charming oval-shaped main square of Piran, Tartinijev trg. The House is the oldest building on the square, and is known for its unique color as well as the inscription between the windows: "Lassa pur dir," ("Let them talk") which acted as message from the Venetian merchant who had the house built for his mistress. 
Visit the beautiful Church of Saint George, the patron saint of Piran, and after appreciating the gorgeous interior, be sure to climb to the belltower for a great view of the city and the harbor. For more stunning views, climb to the top of the city walls to get a glimpse of the peninsula. 
Even though there is no beach, you can still swim from off of the piers, and there's even a diving school on the north side of town if you want to explore the Adriatic.
Practical Info
Getting to Piran can be tricky, but is well worth it. The closest airport is Trieste, and there are coaches into the city that take about 90 minutes. While there is no train station, there are frequent buses to and from Izola, Koper, Portorož, and Ljubljana. If you're coming over from Italy, there is a regular bus service from Venice. 
Getting around Piran is must easier, and because it is so small, can be seen by foot without hassle. Cars are not advised, as there is very limited parking and it can be very expensive. If you've rented a car, there is parking available outside the city, with a free shuttle bus to the lot every 15 minutes. 
Spend a day uncovering the scenic, cultural and historical delights of the Slovenian coast . Take in panoramic views of the Bay of Trieste from the clifftop ... Read more
Location: Ljubljana, Slovenia
Duration: 10 hours (approx.)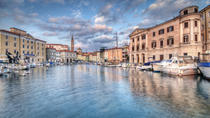 14 Reviews
When staying in Ljubljana, take some time to visit the Mediterranean world of Slovenia's coastal region. On this tour you'll visit one of the most beautiful ... Read more
Location: Ljubljana, Slovenia
Duration: 9 hours (approx.)