24 Reviews
Address:

12802 East Street

Hours:

Every day except Thursdays. Kids 10 years old and younger are allowed only on weekend tours

Admission:

US$25
Tampa Big Cat Rescue
Looking for something more exciting and adventurous than sitting by the pool all day? Get up close and personal with some of the world's fiercest felines at Tampa's Big Cat Rescue, the world's largest accredited big cat rescue sanctuary. Big Cat Rescue is a nonprofit educational sanctuary devoted to rescuing and providing a permanent home for exotic (i.e. wild, not domestic) cats who have been abused, abandoned, bred to be pets, retired from performing acts, or saved from being slaughtered for fur coats.
The sanctuary is home to more than 100 big cat residents (over 14 different species), giving it the most diverse population of exotic cats in the world. Current residents include familiar species such as lions, tigers, bobcats, leopards, cougars, bobcats, and lynx, as well as more obscure ones such as ocelots, servals, caracals, and even a liger (a lion and tiger crossbreed).
Practical Info
In addition to the regular day tours, there are also other special tours including a feeding tour (where you can watch the cats be fed their dinner), night tour, keeper tour (where you see the trainers at work with the cats), as well as private tours.
Children under 10 are restricted from all tours except for the special kids tour, offered on Saturdays.
The Tampa Big Cat Rescue is only a 5-minute drive from downtown Tampa.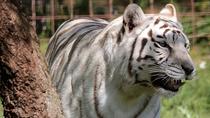 20 Reviews
Day Tour Meet 100+ exotic cats representing 15 species of wild cat. This is a walking tour. All Cat-a-tats (enclosures) are 1200 square feet to 3 acres of ... Read more
Location: Tampa, Florida
Duration: Varies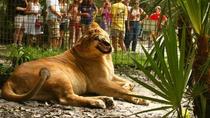 3 Reviews
A picture is worth a thousand words! Feeding time at Big Cat Rescue begins at 9am and now you can come and watch the feeding of the big bats!
Location: Tampa, Florida
Duration: 60 minutes (approx.)