Trinidad and Tobago RECOMMENDATIONS See all
Trinidad for Cruise Lovers
By Viator, October 2013
No reviews, be the first!
Trinidad is unlike other Caribbean island destinations in that its main trade isn't tourism. Trinidad is the financial center for much of the Caribbean, and its stock and trade is natural gas and oil exports. This means that Trinidad is often a welcome change of pace from other island nation ports, as it offers a bustling commercial center for those who first arrive in Port of Spain.

Touring Port of Spain is a great option for those who want to learn more about Trinidad and see its famous historical sites like the "Red House" (the impressive House of Parliament) and get their bearings on this bustling Caribbean city. Most cruisers tend to use Port of Spain as just that, however – a port, and head off to see the island's Caribbean treasures once they touch down. Seeing Trinidad's Highlands and visiting the famous Maracas Beach is a popular way to see some of the island and get some beach time in, while others skip to Buccoo Reef – Trinidad's coral reef gardens, which are famous for their abundant sea life and incredibly clear waters. The Asa Wright Nature Center is another example of Trinidad's amazing biological diversity and this world-renowned nature center gives visitors a hands-on experience with Trinidad's exotic birds like the tufted coquette and the Ruby topaz hummingbird.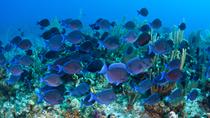 5 Reviews
Buccoo Reef has been named one of the spectacular sights to behold in the world, so what better reason to visit? This 2 1/2 hour journey from Scarborough will ... Read more
Location: Scarborough, Trinidad and Tobago
Duration: 2 hours 30 minutes (approx.)