Of all Yosemite's lodging options, Ahwahnee Hotel stands out - not only for its location, set amidst the park's most recognizable features (you can see Yosemite Falls from the legendary dining room), but also for its interior, redolent of the dawn of Yosemite as a national park.

A National Historic Landmark, the Ahwahnee Hotel was the product of a need for "luxury" in the park. Completed and opened to the public in 1927, the hotel has 123 guest rooms comprised of 99 hotel rooms, four suites and 24 cottage rooms on the grounds surrounding the main building.

It costs a pretty penny to stay in the Ahwahnee and rooms fill up quickly; to learn the story behind the architecture and interior design of one of the most recognized "Great Lodges of the West," sign up for a free tour. If you're not up for spending the time—or money—in the dining room, enjoy a cocktail at the Ahwahnee Bar and still experience the flavor of the hotel.
Practical Info
The Ahawahnee Hotel is open year-round. Seatings in the dining room fill up quickly, so be sure to call ahead and make a reservation. Free tours are conducted year-round and last about an hour; start times vary by season. Reservations are required; sign up at the concierge desk at The Ahwahnee or call 209-372-1426. Adults and mature children are permitted on the tour and be sure to dress for outside temperatures.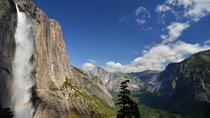 209 Reviews
Get out of town! Exchange the big-city charms of San Francisco for the fresh air and natural beauty of Yosemite, California's most famous national park. ... Read more
Location: San Francisco, California
Duration: 13 hours 30 minutes (approx.)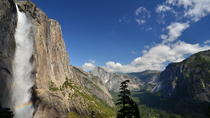 3 Reviews
Enjoy the flexibility to explore Yosemite National Park at leisure with an overnight stay at the park's ultra-luxurious Ahwahnee Hotel from San Francisco. ... Read more
Location: San Francisco, California
Duration: 2days/1night