8 Reviews
Address:

Rooseveltov trg 5

Hours:

Oct1-Jun30: Tue-Wed, Fri-Sat 10am-5pm; Thu 10am-7pm; Sun 10am-2pm. Jul1-Sept30: Tue-Fri 10am-7pm; Sat 10am-5pm; Sun 10am-2pm
Mimara Museum (Muzej Mimara)
With its grand neo-Renaissance façade presiding over Roosevelt Square in Zagreb's Donji Grad (Lower Town), the Mimara Museum (Muzej Mimara) is impossible to miss, but the dramatic building is more than just a pretty face. This is the city's biggest and most important art history museum, housing over 3,750 works, including paintings, sculptures and crafts, spanning over three millennia. The permanent exhibition is made up of the personal collections of Wiltrud and Ante Topić Mimara, an extraordinary assemblage of artifacts bequeathed to the city in 1987.

Elements of the collection come from all around the world, including Persian carpets, ancient Egyptian glassware, elaborate Renaissance altarpieces and archaeological finds from Greece, Rome and early-medieval Europe. Highlights include an enameled 13th-century crucifix, a series of ancient Far Eastern artworks and paintings by Dutch artists Rembrandt and Ruisdael, Spanish painters Velāzquez and Goya, and other famous names like Rubens, Van Dyck, Manet and Caravaggio.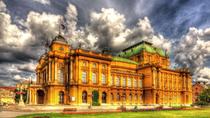 See the best that Croatian's capital has to offer and visit Plitvice Lakes, world's famous UNESCO listed national park.
Location: Zagreb, Croatia
Duration: 3 days (approx.)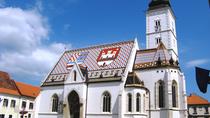 7 Reviews
Get acquainted with Zagreb, Croatia's dynamic capital, on a comprehensive 1.5-hour walking tour! Led by an expert local guide, the leisurely paced tour ... Read more
Location: Zagreb, Croatia
Duration: 90 minutes (approx.)
In just 3 days explore the two capitals of Croatia and Slovenia. Feel the charm of Zagreb and Ljubljana and discover all the stories they treasure with English ... Read more
Location: Zagreb, Croatia
Duration: 3 days (approx.)