Witness landmarks and monuments relating to the Battle of Gettysburg on this guided bus tour of the carefully restored battlefield. Hear your knowledgeable guide discuss the various phases of this three-day battle that was the turning point in the American Civil War. See significant locations including McPherson Ridge, Culp's Hill, Little Round Top, Devil's Den and the site of Pickett's charge. Ideal for history lovers, this tour is a somber exploration of one of the most pivotal places in America's past — and a convenient drive from the nation's capital.
Highlights
Guided coach tour of Gettysburg Battlefield

See important sites on the battlefield including Culp's Hill, Cemetery Ridge, Little Round Top and Devil's Den

Listen to your guide give a detailed historical account of the Battle of Gettysburg

Perfect for Civil War buffs!

What You Can Expect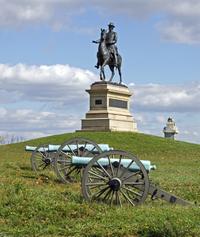 Central Gettysburg is just a convenient 1.5-hour drive from Washington DC. Make your way independently from DC to the Gettysburg Battlefield for your guided bus tour of the historical site. Settle in aboard your coach and let your expert guide take you back in time to the events of July, 1863. Over the course of three bloody days, thousands of Union and Confederate solders lost their lives during the Battle of Gettysburg, a defining event of the American Civil War.

Learn how the opposing troops headed toward each other along the same road, and see battle landmarks including East Cemetery Hill, McPherson Ridge and the Railroad Cut, as well as the Eternal Light Peace Memorial — dedicated on the battle's 75th anniversary.

Hear how Confederate troops attacked Culp's Hill and Little Round Top but were held off by Union soldiers. See Devil's Den, a boulder-strewn ridge where some of the worst fighting occurred. Get a look at Bloody Run — the creek between Little Round Top and Devil's Den that briefly ran red with the blood of fallen soldiers — and the Wheatfield, which was said to be completely covered with the bodies of the dead.

Finally, pass the site of Pickett's Charge, the Confederacy's climactic assault on Union positions on Cemetery Ridge on the last day of the battle. See the farthest point reached in this attack — referred to as the high-water mark of the Confederacy — and learn how the Confederate troops were ultimately forced to retreat.

Halfway through your coach tour, take a restroom and snack break (own expense). Your 2-hour coach tour of major historical sites of the Battle of Gettysburg ends where it began in central Gettysburg. From here, continue exploring on your own before finding your way back to Washington DC.
April 2016
The tour guide was knowledgeable and informative. It was a cold windy day and they did the best to make it nice for us.
Advertisement
Advertisement