Get a taste of Bedouin life and desert adventure on this 5.5-hour 4x4 trip from Abu Dhabi. With an expert guide, board a 4x4 and head deep into the dune-filled desert for an action-packed afternoon and evening Abu Dhabi desert safari. Take an exciting dune bash; visit a camel farm to ride one of the hardy desert animals; try sandboarding, watch a serene desert sunset, and perhaps get a henna tattoo. Finish with a delicious barbecue dinner and belly dancing show around a campfire at a starlit desert camp.
Highlights
Abu Dhabi 4x4 desert safari

Ride a camel like the Bedouin
Feel the excitement of sandboarding down dunes
Get a henna tattoo painted on your hands or feet
Watch traditional belly dancing
Enjoy a barbecue dinner under the stars
Recent Photos of This Tour
What You Can Expect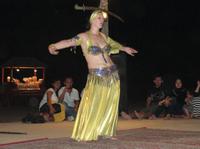 Leave your central Abu Dhabi hotel in a comfortable, air-conditioned 4x4 and enjoy the views as you travel deep into the desert surrounding the city.
As you travel, hear intriguing facts about Abu Dhabi's history and gain insight into the traditional desert culture still held dear in the UAE from your knowledgeable local guide.
After a while, pull up at a desert camel farm to discover more about these hardy animals, traditionally used as transport by the UAE's original, semi-nomadic Bedouin peoples.
Snap photos of the camels and with instructions from your guide, take a camel ride across the sands. Enjoy the desert views from your perch and try your hand at other desert activities.
Hop on a sandboard to 'surf' down the dunes, enjoy a stint of dune bashing as your expert driver steers your 4x4 up and down the sandy slopes, and perhaps get an intricate henna tattoo painted on your hands or feet.
Continue deeper into the desert and stop to soak up a magical sunset, watching as the radiant sun sinks below the dunes.
Arrive at a torchlit desert camp and sit down to a mouth-watering Arabian barbecue dinner of dishes such as hummus (chickpea dip), kebabs and fresh green salads.
Absorb the enchanting setting and after dinner, enjoy a belly dancing show around the crackling campfire. If you wish, puff on a shisha (Arabic water pipe) under the stars to finish your Arabian-inspired evening.
Your experience ends with a hotel drop-off back in Abu Dhabi.
April 2016
Fantastic tour. The 4x4 Sand dune bashing was exhilarating and the sandboarding was fun. Camel ride was only once around a small circle, which was a little disappointing. The food was lovely for dinner.
March 2016
An amazing trip to do for the experience of being two miles from a main highway yet completely in the wilderness of sand. The skill of the drivers is extraordinary and if you can get the front seat which I was lucky enough to claim then you will have a fantastic view of what is to come. The food at the dinner was very good and the belly dancing fun. Highly recommended for all ages.
February 2016
This was a fabulous experience and my children just loved the dune bashing! We visited a Camel farm which was interesting however we didn't get much information on the venue. We then went to the Bedouin camp where the camel ride, dune surfing, belly dance and dinner was held. Recommend going early to enjoy the short camel ride. We also had henna tattoos done, dressed in traditional clothes and had photos taken. The belly dancer was exceptional, and the dinner delicious. Highly recommend this experience.

January 2016
The tour was amazing. It was 6 of us in one car, which is comfortable and you feel safe during the ride over the sand dunes. Our touristic guide Naeem was approachable, very helpful and kind to us. He picked us up at 2:45pm in front of hotel my recommendation is to be on time because everything is scheduled and it's not nice for rest of the group to wait. First, you are going to see wonderful view of the desert, take some photos of course : then the tour will continue with crazy and exciting drive over the sand dunes to a camel farm, where you will be able to pet them and see cute baby camels. Last stop where you have toilets is where you are gonna have tasty dinner open buffet with salads, meat, pasta and fruits tea, coffee, dates and nonalcoholic drinks. Before eating you should try dune buggy additional 50 AED, totally worth, you can do camel ride and code bike, try traditional cloth and take pictures with falcon all included as a part of tour. Also, after dinner you will be invited to smoke shisha and at the end it will be amazing belly dance performance. Meanwhile, they will also switch off the lights so you can lie down and enjoy in the beautiful view of the stars.
I highly recommend this tour as part of your visit of Abu Dhabi. It's amazing experience and you will enjoy every part of it.
December 2015
November 2015
We loved it! It's a must. It was an amazing safari! Although we went to the camel farm and weren't able to ride the camels, we were able to pet them. The dinner and belly dancing were also awesome! Definitely would do it again when we're back in the city. Its an afternoon tour, so we arrived in the morning checked in the hotel and settle ourselves and were were ready to our little adventure. If youre prone to nausea you should take something for the ride. The sand was very hot, so you should make sure to wear shoes and not sandals. The temperature in the afternoon was around 45oC 114oF outside the cars. Inside they keep the air conditioner on. They do give you cold water when they stop, so its ok. And when you get to the camp, you can find cold beverages too. It gets cooler but still warm when the sun comes down. The cars are really comfortable and they are punctual. A sunset Ill never forget.

October 2015
unbelievable experience you won't want to miss it the staff is completely professional and the safari itself is just an experience if you are even considering this don't even think of any other activity this is it in abu dhabi!! Amazing!!

August 2015
Super well - done! 4x4 cars were modern, AC, high performance. The Jeep Safari was exhilarating as we surfed the dunes in the 4x4 ride! The camel ride was really fun, food at the camp was delicious and the belly dancing show was very professional.
My husband happily rode the quad bikes at an extra fee which he thoroughly enjoyed.
The only two things I would change:
1 The driver could not speak English - so whenever we asked questions, we didnt get a reply. The last time I went to a similar experience with another company from Dubai, the driver spent the whole trip passing on information about the traditions of the people.
2 The sand boarding equipment was very unprofessional - just a skate board converted into a sandboard using some bandages - we refused to risk trying it. On a similar trip, as mentioned above, a professional sand board with professional straps like ski equipment would have was used and it was a fantastic experience.
Otherwise the tour passed like a dream :-
July 2015
Awesome experience, this one is definitely a must do when in Abu Dhabi or Dubai. Certainly the highlight of our stay. Very highly recommended.
June 2015
Excellent experience highly, recommended. Fazza best driver ever great in the dune bashing.
Advertisement
Advertisement