10 Reviews
Location:

Abu Dhabi, United Arab Emirates

Duration:

8 hours

(approx.)
Visit Dubai while you're in Abu Dhabi, and discover the historic sights and glittering modern landmarks of Dubai City , the official name of the city within the emirate of the same name. From the signature Burj Al Arab hotel to Jumeirah Mosque and the fabulous gold souk, you'll see all the sights that make Dubai famous and learn about them from a local guide.
Highlights
Half-day Dubai City tour from Abu Dhabi with a local guide

Snap a photo of the Burj Al Arab hotel
See Jumeirah's palace and mosque
Tour the old quarter of Dubai, Al Bastakiya
Sail across Dubai Creek and shop for bargains in the gold souk
What You Can Expect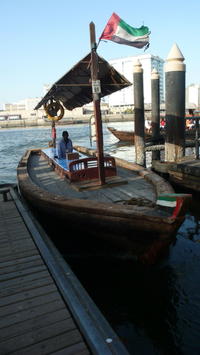 After driving across the border from Abu Dhabi in a comfortable, air-conditioned vehicle, your first stop in Dubai City is the sail-shaped Burj Al Arab hotel on the sands of Jumeirah Beach.

Take photos of this famous landmark, and then continue with your guide along the shoreline to Jumeirah, one of Dubai's upmarket residential areas. See Jumeirah's luxury hotels, its picturesque palace and the white marble dome and minarets of Jumeirah Mosque.

Your next stop is Dubai's atmospheric old quarter, Al Bastakiya, where winding lanes lead to hidden courtyards and mud-brick homes topped by traditional wind towers, designed to catch cooling offshore breezes.

Visit Al Bastakiya's old Al Fahidi Fort, complete with cannons, turrets and fortified walls, and home to the Dubai Museum. Then take a ride across Dubai Creek, Dubai's central waterway, in a traditional water taxi called an abra – it's one of Dubai's must-do activities.

On the Deira side of the Creek, soak up the color and perfume of the spice souk, and then have free time to browse the glimmering necklaces and rings in Dubai's legendary gold souk.
September 2013
Unbelievable value. One hour transfer to Dubai with informative guide. Cover main areas around Jumeirah beach. Only site missed out was the Burj Khalifa though not hard to spot in the skyline.
April 2014
The tour was great. The comfortable air conditioned car picked up at our hotel and took us to Dubai where we joined a coach. We then set off on the tour. It was really well done and we got to see all of the sights of Dubai. We stopped off at the Mall which was interesting, as was the river crossing in the traditional boat All in all it was a very good tour and I would recommend it to anyone staying in Abu Dhabi.
July 2015
Interesting tour of Dubai, certainly worth doing just to get some bearings and see the places to return to. Shopping at the Souq was a highlight of this one.
December 2014
We had to wait for the big tour bus in the hot sun for too long, tour was german and english together which was tiring to listen to both. U saw evetything only from bus , the two stops were too short and the free time on the zouk only 20 min. I would t recommend this tour.
October 2014
Good experience, particularly the Dubai museum, ferry trip and the old city. However, be warned, the transfer is 2 hours plus each way as the transfer driver also picked up passengers at various hotels in Dubai before reaching the meeting point.
November 2013
I was very pleased with your organization, with regard to places seen I am less satisfied, you must introduce the visit to the higher building in Dubai and a tour by boat
thanks
September 2014
It would have been useful to be told we were being picked up by a taxi to then be taken to Dubai to meet the main tour. We were under the impression that the taxi driver was our guide, consequently, it started badly as he didn't impart too much information!! After an 80 minute plus drive to Dubai, we then had to pick up another family before joining the main tour. We arrived at their hotel and were told by the taxi driver that it would be 5 minutes. It was 30 minutes later before we left and were told (only after asking) every Q10 minutes that we would be leaving in 5 minutes. The sights and tour was okay, but spoilt by the travel arrangements, so not one I could recommend.
June 2014
This tour started with a 2hr drive to Dubai to meet the tour bus
Our group of 4 were the only pick ups in Abu Dhabi and when we got to Dubai we met a small bus on the beachfront after a ten minute sit and wait. The bus tour was extremely basic although the guide was informative and tried his best to make the tour interesting. I am sure there are better tours of Dubai available. Not worth the money.
February 2015
This tour did not live up to my expectations
We left our hotel at 12 30 and returned after 8 pm with no break for a snack The only free time we had was at the gold market where the only thing we could get was a bar of chocolate A back street Indian chippy was all one could find. Will not recommend
April 2014
This was pretty boring. The boat could have been spruced up a bit, it was tacky. It would have been better if there was a "guide' givng us information on the sites as we were traveling on the water. Way too much food. It was OK but smaller portions would have satisfied and not have been so overwhelming. The city lights were nice. The service people were good.
Advertisement
Advertisement