Snorkel and swim in the shimmering waters of the Pacific Ocean on a half-day snorkeling tour from Acapulco. Cruise to the idyllic La Roqueta Island, stopping along the way to snorkel in spectacular spots among marvelous marine life and colorful coral reefs. Sink your toes into the silken sands of the beach and purchase local specialties in authentic eateries upon the island.
Highlights
Snorkel adventure in Acapulco
Cruise to La Roqueta Island
Relaxing day on the beach
Tropical marine life
Restaurants, beautiful waters and secluded beach spots
Hotel pickup and dropoff
What You Can Expect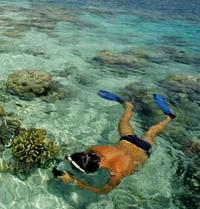 Greet your guide at your Acapulco hotel and head to the port to set sail over the sun-drenched seas. As you glide over the iridescent ocean to La Roqueta Island, enjoy the stunning scenery before stopping to explore the underwater wonderland. Don your snorkeling gear and submerge yourself in the crystal-clear waters to discover troves of tropical fish and incredible coral reefs.
Continue your voyage to the serene shores of La Roqueta Island, relaxing during free time on the blissful beach. Swim in the sublime sea before visiting a traditional restaurant to sample freshly caught seafood and exotic fruits (own expense).
Return to the boat and enjoy the smooth sail back to the port before returning to your Acapulco hotel.
August 2011
The snorkeling was spectacular! The guides were very knowledgeable and showed us many different forms of marine life.
November 2014
The tour guides were great. I am only giving this 4 stars as the water was not very clear due to it being the end of the rainy season. So when we decided not to go into the water the second time they took us on a boat tour of the area. Very accommodating. They were so nice and their English skills were good which is very helpful and my travel companion (cousin) and I have very poor Spanish skills. I would go on this again.
October 2010
Great time . south point, great place to stay. the nascar truck race, awsome. the strips the shows awsome
Jose A USA
August 2009
We enjoyed this.
Ken M Canada
October 2008
The association that performs the tours were highly professional. We enjoyed the snorkeling so much the first time we booked a second tour for the next day as well. The only negative comment I had is that the boats were a little difficult to get into as they did not have ladders for getting out of the water only platforms.
Brenda R USA
October 2008
We had a wonderful time on our snorkeling tour. The guy that went in to show us where all the neat fish were hiding was fabulous. The tour was with Siss Divers. We saw several huge sting rays, with approx. 4 ft. wing span. I was rather nervous after that. It was lots of fun. When we got back into the boat, several baby Rays began jumping out of the water, almost like they were playing with each other. Never saw anything like it, but we were told it happens frequently off Roqueta Island. Highly recommended.
February 2016
After MUCh confusion, the trip was good, but was NOT the trip described on your website. First of all we were told we would be met by someone from Royal Tours. We were outside our hotel early and never saw anyone from Royal Tours. We saw a nice man from Swiss Divers that had a van full of peoploe waiting to go on a dour and asked him if he knew of Royal Tours and he said no but he was waiting for a couple to go on his tour. After much checking the couple he was waiting for was us! So much for Royal Tours..then we were taken to an old hotel to board a boat taking us to snorkel. We were taken to a very nice spot in the middle of the bay, but not to any beach like the description on your website describes. Your website described this trip as going to the beach and purchase local specialties in authentic eateries upon the island. That never happened either. The boat took us to snorkel and they provided very basic ham and cheese sandwiches no choice. There was no beach in sight and no place to buy anything. Although we made the best our our snorkeling trip, I was extremely disappointed as I was looking forward to enjoying time on the beach and enjoying local foods. The guide from Swiss Divers was very nice, but this was not was we signed up to do. It was very confusing with the pickup and disappointing with the excursion although we did see nice fish, but no beach. We travel extensively and will hesitate before booking another Viator trip due to the misleading information we had from this one,.
Advertisement
Advertisement