Experience the natural beauty of the Adelaide region on a downhill bike tour from the summit of Mount Lofty. With a guide, you'll start your bike ride at the highest point of the Mt Lofty Ranges, where you can marvel at the panoramic vista before hopping on your mountain bike and taking off down the hill. Make a stop at Cleland Wildlife Park to spot kangaroos and koalas, and stay energized with morning tea. Round-trip transportation by comfortable 4WD vehicle from Adelaide to Mount Lofty is included. This tour is limited to nine people to provide a small-group experience with personalized attention.
Highlights
Fully guided bike tour from the summit of Mount Lofty to Adelaide

Visit Cleland Wildlife Park and spot koalas, kangaroo and wallabies in their native environment

Enjoy a gentle downhill ride suitable for anyone comfortable riding a bike on uneven roads

All necessary equipment included, including high-quality mountain bike and helmet
Small-group tour limited to nine people provides a personalized experience with a guide
What You Can Expect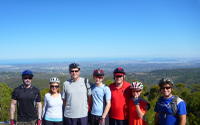 Your cycling adventure starts as you're outfitted with a high-quality mountain bike and helmet. Then leave Adelaide behind by air-conditioned 4WD vehicle for the drive up to the summit of Mount Lofty—elevation 2,329 feet (710 meters).

During the drive, stop for a photo op above the city, with the verdant mountains and Australian bush as your backdrop. Then hop on your bike when you get to the summit, the highest point in the Mt Lofty Ranges, and follow your guide down the mountain, pedaling at a relaxed pace as you admire views of the Adelaide Hills. You'll be cycling through Cleland Conservation Park, an 85-acre (35-hectare) bush habitat that protects an environment of bushland, stringyback forest and grassy fields; keep your eyes open for roaming animals while you ride.

Take a break when you reach Cleland Wildlife Park for an animal encounter with some of Australia's most beloved native creatures, from emus to wallabies to koalas, and then refuel with morning tea before returning to your bike to ride through Chambers Gully, an offshoot of Waterfall Gully, home to springs, ruins and koalas who snooze high up in the trees. Continue enjoying scenic views of the hills and the city, and finish your 2-wheeled journey on a trail that leads you into Adelaide's quiet suburbs.

When you reach your end point, your tour concludes with transport to your hotel.
February 2016
Fantastic time on this bike tour. We saw some great wildlife on our decent including lits of koala in the wild. The bike tour is a great way to see parts of Adelaide that are off the beaten track and suitable for all abilities.
November 2015
Absolutely perfect! It was a lovely day with a lovely view. Our guide, Matt, was in no hurry to get us down the 'mountain'. We took our time feeding the kangaroos and admiring the teeth of the Tasmanian devil. Matt also gave us lots of warning on the 'tricky' bits of the trail which, mostly, weren't all that tricky. The bikes were in excellent shape, with good braking and a lot of traction. If you're after a challenging ride, this isn't for you. But for the traveler just wanting to get out and enjoy the scenery, it's perfect!
October 2015
It was a highlight to my trip.
The guide is really good, stopping at critical points to guide you to the way and even though I've never done mountain bike before it was good fun. Hard enough to challenge myself.
There is a walk in the park. We have some breakfast and bike again. Highly recommended
March 2015
Excellent, Great fun...and very well guided by Ian.
We opted not to visit the actual wildlife park, except for coffee and muffins before heading down the mountain, spotting and photographing Koalas in the trees and then through the back roads and cycle tracks to the city.
Great half day trip, picked up from hotel, top guide, good bikes, and great value. Highly recommended, even if you haven't been mountain biking before.
February 2015
Brilliant but quite scary at the start if, like me, you haven't been on a bike for many years. Ian was fantastic, very patient and helpful. The stop at the wildlife park was great, petting a koala and feeding the Kangaroos. Also coffee and cake which was very welcome. Thoroughly enjoyable and great value.
September 2014
This tour was one of the highlights to our trip to Australia. Ian, our guide, was well organized and guided us down the trail expertly. It is a great way to see Cleland Park and the views on the descent were spectacular. Ian stopped several times to point out Koalas in the trees and the Magpies were racing us down the hill. It was nice to have a tour that involved exercise as well as seeing some beautiful scenery. Thanks Ian for making our trip to Australia really special.
June 2014
Great tour! Guide was friendly and knowledgeable and very helpful with using the bikes. Trail through the bush of the park was easy to ride and we saw koalas and other animals in the wild.
April 2014
Great way to spend a morning in Adelaide. Really enjoyed it. Our guide was really good and looked after us fantastically
December 2014
Good, outdoor and enjoyable experience. Not a lot of things for active teenagers to do in Adelaide but this was a good one - my son enjoyed it. Tour operator is a great guy.
August 2014
A good way to see a part of Adelaide you wouldn't normally see. Biking on the trails was good fun and you don't need to be a pro mountain biker to do it. Cleland Park was good but seeing koala's in the wild was a bit special. Overall we were very pleased to have done the tour.
Advertisement
Advertisement