Discover the delight of Provencal red and rosé wines on this 4-hour tour from Aix-en-Provence. Drive through the foothills of St-Victoire Mountain, which greatly inspired French painter Paul Cézanne, and visit two traditional wineries in the Côtes de Provence St-Victoire winemaking region. Sample exquisite wines, and learn about the unique soil and climate of the Provencal landscape that produces wines with full-bodied minerality. Round-trip transport by luxury minibus included.
Highlights
Half-day wine tour to Côtes de Provence St-Victoire from Aix-en-Provence
Drive to the foothills of St-Victoire Mountain, a landmark that inspired the French Post-Impressionist painter Paul Cézanne
Explore two leading Provencal wineries with an expert guide
Sample decadent red and rosé wines during two wine-tasting sessions
Transport by luxury air-conditioned minibus
Recent Photos of This Tour
Cotes de Provence Wine Tour from Aix-en-Provence
What You Can Expect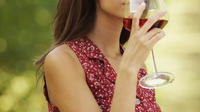 Leave Aix-en-Provence in the morning, and travel east with your guide by minivan to the foothills of St-Victoire Mountain, a stunning peak that rises some 3,317 feet (1,011 meters), dominating the Provencal landscape. The landmark was a source of inspiration for the painter Paul Cézanne in the late 19th century, featuring in many of his Post-Impressionist masterpieces like Mont Sainte-Victoire and the Viaduct of the Arc River Valley.

A popular winemaking region, the softly sloping hills are home to countless vineyards that thrive with the temperate climate and fertile, yet shallow, soils. In turn, this produces some of Provence's best wines – full bodied with abundant minerality.

Visit two of the renowned Côtes de Provence St-Victoire wineries, and sample glasses of their prized reds and rosés during wine-tasting sessions with your guide. Learn about the region, the different wines and their subtle complexities that afford their winning flavors. After each wine-tasting session, explore the wineries to see where the wines are aged and bottled and to soak up the rustic Provencal ambiance.

Return to Aix after your second wine estate tour, and then end your tour with a drop-off at the start point.
December 2015
Very good! Tour guide very pleasant and informative.
August 2015
The tour guide was fun, energetic and very knowledgeable. The only minus was, that during the wine tastings there was no finger foods available. :
Peter B Australia
May 2015
Guide was excellent, funny and very informative. Well organised relaxed tour. Could benefit by limiting the technical process explanation to just one winery, rather than both. View and tasting was excellent.

David K USA
October 2014
Nice compact tour experience. Tour guide was patient and helpful. She answered our questions on the local area and the local wine making traditions with the right level of detail for our tour group. Vehicle was comfortable and clean. The wineries we visited provided interesting and insightful descriptions of their business and traditions. Scenery was beautiful, we thoroughly enjoyed the trip.
July 2014
We had a wonderful time. Our guide, Renaud, was very informative and had a very likable personality. We especially enjoyed the tour of Mas De Cadenet winery with Maude, a 7th generation owner! I wish we'd had time to go on other available tours.

irishgal76 USA
July 2014
This wine tour was informative, had beautiful scenery and we tasted great wine. We went to Mas De Cadenet and Mathieu the owner gave us our tour. He was incredibly informative about his vineyards and the wine making process. Next was a small vineyard at the foot of the Saint VIctoire Mountains. Love
July 2013
Very nice guide and the staff at the vineyards really took their time to explain the winemaking process to us!
October 2013
Nice 1/2 day tour of 2 vineyards. Our guide was helpful in pointing out sites along the way.
June 2015
Guide was lazy, uninterested, boring, on her phone, scolding and retuned me to starting point an hour early. No history, no enthusiasm, she seems like she was on auto pilot . Thank goodness for the other guest and also the two winery's staff did a good job.
Advertisement
Advertisement