Combine fine wines with spectacular Provencal scenery on this full-day tour from Aix-en-Provence! After visiting two wineries in the Côtes de Provence St-Victoire winemaking region and sampling their exquisite wines, spend the afternoon in the Luberon region – exploring the villages of Lourmarin, Bonnieux, Roussillon and Gordes with your expert guide!
Highlights
Day trip to Côtes de Provence St-Victoire and the Luberon region from Aix-en-Provence
Sample divine red and rosé wines at two vineyards in the foothills of St-Victoire Mountain
Spend an afternoon in the Luberon region of Provence, exploring its sleepy hilltop villages
Pose for photos against the beautiful backdrop of Lourmarin Castle
See the Roman arched bridge of Pont Julien on the way to Roussillon
What You Can Expect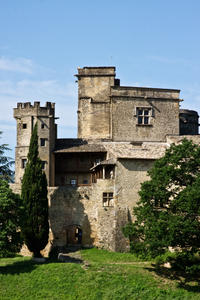 Leave Aix-en-Provence in the morning, and travel east by minivan to the foothills of St-Victoire Mountain, a stunning peak that rises some 3,317 feet (1,011 meters), dominating the Provencal landscape. A popular winemaking region, the softly sloping hills are home to countless vineyards that thrive with the temperate climate and fertile soils. In turn, this produces some of Provence's best wines – full bodied with abundant minerality.

Visit two of the renowned Côtes de Provence St-Victoire wineries, and sample glasses of their prized reds and rosés during wine-tasting sessions with your guide. Learn about the region, the different wines and their subtle complexities that afford their winning flavors.

Return to Aix-en-Provence for lunch (own expense), and then meet your guide at the pre-arranged time for your afternoon in the Luberon region. Embodying picturesque rural France at its finest, the area is peppered with hilltop hamlets and villages – and you'll see the best of them!

First stop is Lourmarin for a photo stop against the backdrop of Lourmarin Castle – Provence's first Renaissance castle. Continue by minivan along the scenic river valley of Combe of Lourmarin, and then arrive in the neighboring village of Bonnieux. Spend time at leisure here, perhaps visiting its 12th-century church or relaxing in the shade of its century-old cedar trees.

Travel through more swathes of soft-hued countryside, passing a Roman arched bridge called Pont Julien, and then take a stroll through the village of Roussillon – known for its orange clay cliffs that are tinged from the soil's rich ochre pigments.

Before returning to Aix, visit Gordes, a cliff-top village, to soak up its dramatic view. Head back to Aix and finish your tour at the start point in the early evening.

September 2015
It was a great day and a wonderful knowledgable guide. The rose wines were refreshing and the sights of the Luberon villages spectacular. Definitely worth it.
June 2015
This tour was worth every penny. Saw beautiful scenery, tasted great wines, and had the best person providing us the tour. She was really knowledgable and spoke with so much love about where she was from. Would do it again in a heartbeat!
March 2015
October 2014
This was a wonderful day with a wonderful guide (Leah). She provided lots of historical and current info on the villages we visited, most interesting. She is friendly, gracious and efficient. We would seek her out in the future for more touring.
The wine tours also were excellent. Interesting and informative.
Viator's tour was outstanding.
September 2014
First, awesome tour guide Lea who has a great personality and really knows the local area. She's also well travelled person herself which I think helps in a very big way because she understands the point of view us, tourists. Second, well planned itinerary. Third, excellent value for money.
July 2014
Great guide Renault showed us a lot and even more: all the best places of Luberon valley, small villages and towns, also tours to 2 wineries were included with wine and olive oil tasting sessions. Many thanks to Renault for his very kind and nice and attentive attitude and great sense of humor!
June 2015
To clarify for anyone considering this tour, it really is two tours put together. The wine tasting is in the morning, which is then followed by a return to Aix for lunch and to pick up new people. Then you go see the villages in the afternoon. For some of the other tours through this company we found this format pretty annoying, but for this one in particular it was ok as it didnt add too much time.
The wine tastings were really great. The tours given at the wineries were very informative I personally knew very little about making wine, and left feeling like I had really learned something. The wine itself was very affordable. I hate going to a tour and then not being able to afford to buy anything at the end, but most bottles were around 10 euros.
The Luberon villages part was nice, but perhaps went on a little long. I would have liked more time at Rusillon and less at Lourmarin, given that by the time you get to Lourmarin the palace itself is closed. I will also say that we went in mid-April, and they were already crowded with tourists. I would imagine in summer they are probably crazy.
Overall though this was a nice trip, with some beautiful scenery, and it was a nice way to get out of Aix without driving ourselves.
October 2014
These are actually two half-day trips put together. I found that out when I was told, in the morning, that the Luberon region afternoon trip might be cancelled since, so far, I was the only passenger. I got really upset at first, for they could have told me that earlier (it was my third tour with the same company). I live in another continent and I don't have many opportunities to travel to Aix-en-Provence (also it was my last day there). But fortunately a few more people ended up booking the same tour and it was back on!
The stress of that last minute almost-cancellation is the only reason I don't give the tour five stars. Other than that, I highly recommend it. The wine- tasting sessions were great (the explanations, the wine, the scenery!), as well as the afternoon in the Luberon region!
Advertisement
Advertisement