Spend your shore excursion in Akaroa on a 2-hour nature cruise around Akaroa Harbour. Your professional skipper points out abundant wildlife that may include Hector's dolphins — the world's rarest and smallest dolphins — New Zealand fur seals, blue penguins and yellow-eyed penguins. You'll motor past volcanic cliffs and remote sea caves by luxury catamaran en route to Seal Bay and a salmon farm in Lucas Bay.
Highlights
Nature cruise in Akaroa Harbour shore excursion

2-hour Akaroa Harbour cruise by luxury boat to see the worlds smallest and rarest dolphin, the Hector's dolphin
See fur seals as you cruise past Seal Bay

Stop at Lucas Bay to see a salmon farm

Stunning scenery and plenty of photo opportunities

Fully narrated by knowledgeable skipper

Not covered by Viator's worry-free policy: guaranteed on-time return to your ship
What You Can Expect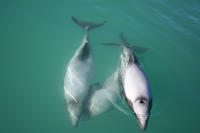 After your cruise ship docks the Akaroa terminal, catch the tender to the main wharf, making sure to arrive a minimum of 30 minutes before your 2-hour nature cruise departs for Akaroa Harbour.
Find yourself a perfect spot on the 60-foot (18-meter) luxury catamaran, which offers a choice of two observation decks that provide plenty of unobstructed views of Akaroa's wildlife. Sip complimentary coffee and tea while the skipper shares information about the harbor's natural history and geographical features — such as Cathedral Cave and the volcanic amphitheater of Scenery Nook — and brings your attention to any marine life.
Motor past Akaroa Lighthouse and keep an eye out for petite Hector's dolphins, whose calves often swim alongside the boat between October and March. You may also encounter white-flippered penguins — the world's smallest penguin — or the endangered yellow-eyed penguin.
Snap photos of New Zealand fur seals basking on the rocks at Seal Bay, and make a stop at a salmon farm in Lucas Bay to learn how Akaroa salmon are raised, before your boat returns to the dock.
This excursion is located within a 5-minute walk to the cruise port, so you determine the time you return to your ship in Akaroa. Please allow yourself ample time to enjoy the excursion and ensure your timely return to the port. This excursion is not covered by our worry-free policy.
Itinerary
On your cruise you will discover the highlights of the Harbour including:

1. Akaroa The French colonized this area after the English declared sovereignty over New Zealand in 1840. Today you can see the French influence everywhere, for example street names like Rue Jolie, which means 'Happy Street'. Nowadays fishing, farming and tourism are the mainstays of the township.

2. Onuku Marae This is the location of the historical Maori village in which one of the oldest churches in New Zealand is located. In 1840 the chief Tekau signed the Treaty of Waitangi here. It is still used today for many gatherings.

3. Cathedral Cave Known to the Maori as Te Anau O Kokiro, the cave was named after the Chief Kokiro. This is an example of how the rough sea has created a volcanic cave over thousands of years, and clearly shows the layers of different volcanic eruptions. Numerous shags nest here on the cliffs.

4. Palm Gully This is the southernmost point at which New Zealand's only native palm tree grows.

5. Te Ruahine This is the northernmost point of the harbor. Translated from the Maori language this means 'old lady'.

6. The Lighthouse For the last 150 years a lighthouse has been located at this point. The original historic Lighthouse is now located inside the Harbour, near the wharf and is only lit for special occasions and holidays.

7. TimuTimu This is the southern most point of the Harbour, translated from the Maori language this means, 'Cut off short'.

8. Salmon Farm Young salmon are being farmed in Lucas Bay and sold to the national and international market.

9. Paua (Abalone) Farm Caskets filled with paua or abalone is fixed to floaters. This shell is being used for jewelry as well as for farming pearls. The flesh of the paua/abalone is recognized world wide as a delicacy.

10. Wainui A small holiday village.

11. Dolphins The Hector's or New Zealand dolphin is a native species and is one of the smallest dolphins in the world. Most are found in the South Island around Banks Peninsula. One of the rarest dolphins, its population is currently between 3,000 and 4,000. This is fewer than any other marine dolphin, and marks the species as endangered.

12. Little Blue Penguins This penguin is the smallest in the world and is now on the endangered species list. The penguins are distinguished by a white leading edge on their flippers and are only 30cm high. Ecologists are trying to establish a colony at Boulder Bay.

13. Spotted Shags Colony of Spotted Shags. The white rock is 'guana' or bird droppings, which show how old this colony is. Both the male and female birds change to a brilliant green around the neck and face during their mating season.

14. Seabirds The following seabirds can be seen in and around the Harbour: 5 different types of cormorant, black-backed seagulls, red and black-beaked seagulls, white-necked swallows, Canadian geese, paradise ducks, mollymauks, white-fronted terns and occasionally gannets, petrels and albatross.
April 2016
Pete United States of ...
February 2016
This two hour harbor cruise far exceeded our expectations. Words can not describe the beauty of the volcanic activity that created this harbor and the opportunity to view birds, Hector dolphins, and fur seals up close, even catching a glimpse of a whale and a blue penguin. Julian was GREAT!
February 2014
We were able to view numerous wildlife. The weather was beautiful. The guide/narrator was well versed and entertaining. We thoroughly enjoyed our Akaroa Harbor cruise.
February 2014
We had a great experience.
December 2013
Highly recommended with excellent facilities on board and lots of wildlife to see. Had a great time.
March 2016
After several emails back and forth, we eventually got on the 1pm catamaran cruise. Was very good. We saw lots and lots of the cute little dolphins, surrounding the catamaran on several occasions. We saw all the interesting caves and rock formations and also about a half a dozen baby seals on the rocks, not too many adults. Guess they were out fishing for dinner! Very good tour, good narration.
Advertisement
Advertisement