Go north of the wall on a full-day, private tour to the rugged landscape and locations of 'Game of Thrones,' then slip into the thermal water at Mývatn Nature Baths. Head into the wilderness in a big-wheeled 'super jeep,' and watch for white walkers as you explore an eerie lava field film site and see the ruined site of Castle Black. Gaze into the Grjótagjá Rift, whose steamy interior inspired the setting of a pivotal love scene between Jon Snow and Ygrette. Make a final stop at Höfði forest, then finish your day in the mineral-infused, water at Mývatn.
Highlights
Full-day Game of Thrones tour from Akureyri, led by a private guide
Discover the remote and beguiling landscapes that enticed the TV series' producers to Iceland
Explore the area 'north of the Wall,' homeland of the fearsome wildlings and White Walkers
Visit key filming sites including a lava field near Kálfaströnd, the setting of Castle Black and Höfði forest
Finish the day by soaking in the therapeutic waters of Mývatn Nature Baths
Travel by specially customized SUV and reach the areas that standard coaches struggle to access
What You Can Expect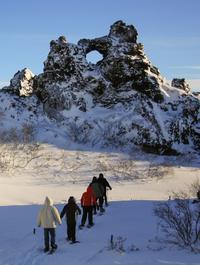 Start your
Game of Thrones
tour with a pickup from your Akureyri or Lake Mývatn hotel by 'super jeep,' a uniquely designed SUV mounted on monster tires that measure upwards of 38 inches (95cm) tall. Then, set out to discover some of the series' top Icelandic filming locations with your private guide. Famously, Iceland has hosted the 'north of the Wall' setting in the mythical land of Westeros, a remote area inhabited by wildlings and fearsome zombies known as White Walkers.
Hear of the second series' episode when the Night's Watch were hunted down by White Walkers, and enjoy a stop at a lava field near Kálfaströnd to see where filming took place. After posing for photos against a backdrop of ethereal Icelandic scenery, continue your tour to see further sights beyond the Wall.
Call in at the ruins of Dimmuborgir, the site of Castle Black, and hear insider gossip about popular Night's Watch characters who lived there such as Benjen Stark and Jon Snow — the personal steward of Lord Commander Jeor Mormont. Grjótagjá Rift lies nearby at Lake Mývatn, so head to it next and gaze at the steam that rises from its geothermic-heated water inside.
While the cave was featured as a
Game of Thrones
location, only the actual entrance made the final cut. As the steam proved to be a hindrance in filming, a green screen version of the cave's interior was used to film the famous scene between Jon Snow and Ygrette.
After a break for lunch at a nearby cafe (own expense), stroll through Höfði forest and wander to a little-known vantage point to see where the computer-generated Wall would stand.
Let your gaze — and imagination — run wild, as you picture the Night's Watch guarding their region from zombie attacks and raids.
Snap photos of the beguiling landscape, hop back inside your jeep and travel to Mývatn Nature Baths to finish your tour on a relaxing high note. Like many Icelandic spas, the site's beautiful lagoon is filled from a natural hot spring whose soothing waters boast mineral-rich properties that treat your skin as you bathe.
Unwind in the water, use the sauna if you wish, and then finish your day with a drop-off at your hotel.
August 2015
We had a wonderful time in the Super Jeep and being introduced to the Northern part of the country. Our host was extremely knowledgeable and personal! Tour was very private and we would highly recommend it. Only one of the three of us were Game of Thrones fans- we were all able to enjoy the sights and learn a lot about the country as the host accommodated all our interests.
March 2015
Fantastic! The guide was really good.
Advertisement
Advertisement