Immerse yourself in the mythical desert landscape of the Outback on this 2-day tour from Alice Springs. Witness an awe-inspiring sunset and sunrise over Uluru (Ayers Rock) and admire the majestic rock formations of Kata Tjuta. Delve into aboriginal history at the Uluru-Kata Tjuta Cultural Centre and come face-to-face with ancient rock art at the Mutitjulu waterhole. Travel by comfortable coach, and stay overnight your choice of accommodation near Ayers Rock.
Highlights
Two-day tour from Alice Springs to Uluru and Kata Tjuta
Driving through the vast open spaces of Outback Australia
Visit a camel farm and ride a camel (own expense)

Enjoy the sunset over Uluru with a glass of sparkling wine

See the changing hues of sunrise over Uluru

Choice of budget, standard or superior accommodation
Entertaining and informed commentary from your driver/guide
What You Can Expect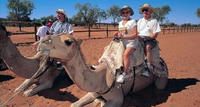 Make the most of your time in Australia's Northern Territory with this diverse two-day tour from Alice Springs. Travel aboard an air-conditioned coach through the mystical Outback, stopping to stretch your legs with a camel ride along the way (own expense), and to snap photos of natural attractions like the West MacDonnell Ranges and Mt Connor.
Explore the domed rock formations of Kata Tjuta and the impressive rock walls of Walpa Gorge on a guided tour, and take in the majestic colors of both a sunset and a sunrise over Uluru. Learn about Dreamtime legends and the area's rich indigenous history with a visit to the Mutitjulu waterhole and Uluru-Kata Tjuta Cultural Centre.
Choose from budget, standard or superior accommodation options near Ayers Rock, and enjoy pickup and drop-off from your Alice Springs hotel. See Itinerary below for a more detailed description of each day's activities.
Itinerary
Day 1: Kata Tjuta, Walpa Gorge and Uluru Sunset
Depart from Alice Springs and travel through the West MacDonnell and James Ranges with stops at a camel farm, where you have the chance to ride a camel (own expense) and a great vantage point to see the majestic Mt Conner. Later in the afternoon, travel to Uluru and tour around the base with your guide. Next, travel to Mutitjulu waterhole, where you will take a guided walk, see ancient rock art and hear Aboriginal legends. Afterward, visit the Uluru-Kata Tjuta Cultural Centre where you can learn more about the indigenous history and culture, and see traditional arts and crafts on display. Then travel to sunset strip where you will enjoy a complimentary glass of wine as you admire the spectacular display of light and color as you watch an Uluru sunset.

Day 2: Uluru Sunrise, Mutitjulu Waterhole

Rise early in the morning and travel to Talinguru Nyakunytjaku viewing area to witness the sunrise over Uluru. In the stillness and quiet, enjoy a cup of tea or coffee and feel the spiritual heart of the Australian Outback. Then be mesmerized by the changing hues of Uluru in the morning light. After watching the sunrise, visit the 36 immense rock domes of Kata Tjuta. Enjoy a guided walk into Walpa Gorge and marvel at the sheer walls that flank you as you enter the gorge.
In the afternoon you will be transferred back to your Alice Springs hotel.

Please note: There is no opportunity to purchase food while on tour. Please arrange with your hotel to have breakfast earlier or to provide a breakfast box to take with you.

Accommodation Options:

Outback Pioneer Lodge and Hotel (Budget)
The Outback Pioneer Lodge has a true outback, pioneering atmosphere that gives our guests a real taste of traditional Australian hospitality. Cook up some outback delights on the barbecue or come and share a few yarns about your adventures in the Red Centre over a beer and some hearty bush tucker in the Bough House Restaurant.

Desert Gardens Hotel (Standard)
Set amidst magnificent ghost gums and flowering native shrubs, the recently refurbished Desert Gardens hotel offers a range of stylish accommodation. Desert Gardens is the superior hotel at Ayers Rock Resort and is centrally located to all resort and touring facilities.

Sails In The Desert (Superior)
Sails in the Desert is the premier hotel at Ayers Rock Resort, with spacious, airy and exquisitely furnished rooms set in lush park-like grounds. Deriving its name from the distinctive sail-like structures, which provide shade and a touch of elegance to its design, Sails in the Desert is the ultimate in luxury in the Red Centre.

Due to operational requirements, hotels are subject to change by the tour operator without notice.
Hotel Pickup List:
06:15 - A Good Rest B&B
06:55 - Alice in the Territory
06:15 - Alice Lodge Backpackers
06:35 - Alice Motor Inn
06:40 - Alice on Todd
06.35 - Aurora Alice Springs
06.25 - Chifley Alice Springs Resort
06:45 - Desert Palms Resort
06:35 - Desert Rose Inn
06:30 - Diplomat Motel
06:50 - DoubleTree Hilton Alice Springs
06:30 - Elkira Motel
06:55 - G'Day Mate Caravan Park
06:20 - Haven Backpackers
06:55 - Heavitree Gap Outback Lodge
06:55 - Heritage Caravan Park
06:40 - Ibis Styles Oasis
06:55 - Lasseters Casino Hotel
06:55 - MacDonnell Ranges Caravan Park
07:00 - Pathdorf Bed & Breakfast
06:40 - Quest Apartments
06:15 - Stuart Caravan Park
06:40 - Swagmans Rest Motel
06:35 - Todd Tavern
06:40 - Toddy's Resort
06:40 - Wintersun Caravan Park
06:15 - Vatu Sanctuary
dwsarge USA
October 2012
Our visit to Uluru was all we hoped for and more. The long bus rides were punctuated by excellent information provided by knowledgeable driver/guides. The sunrise and sunset experiences were superb and very spiritual in feeling. The accommodations (we received an upgrade) at Ayres resort were first class as were the people in the hotel and shops in the town center. We would recommend Viator to all travelers desiring a well organized 2 day tour.
Gerald L Canada
March 2009
This is one of the best trips we've ever taken. The organization was great and the bus driver/tour guide's comments throughout he trip were quite informative. The scenery was magnificent.
Peter A United Kingdom
August 2008
The trip was extremely good, and in particular our driver had an incredible knowledge, both self taught and researched, of the Aborigine people, their culture, and their customs. We were, however, disappointed with The Sails in the Dessert, because it took us nearly two hours to get checked into our room, which left us with only fifteen minutes before we were being picked up again. In addition, we would have liked to have seen Kings Canyon, which I believe would have been feasible had a little more thought gone into the planning of the trip's timetable. Overall, it was an experience we will never forget and will be pleased to promote your tours to our friends when they visit.
March 2016
It was a long journey from Alice to Uluru but our driver, Dave, was informative as we travelled which helped the journey no end. The coach was good and the air con superb.
The camel farm was not at all interesting to us but the tour of Uluru was enlightening
December 2012
Had a wonderful trip.Nothing can prepare you for your first glimpse of Uluru...awesome.
Glenn H Australia
July 2009
The driver/tour guide was well informed and looked after travelers very well. He also had extra water on board to fill drink bottles when required, which is a necessity when travelling in the outback.
Christine S New Zealand
August 2008
We enjoyed the trip, and the accommodation at Desert Springs Resort was very nice, better than we expected.
September 2012
Bus drivers were great but didn't feel it was worth the money.
Advertisement
Advertisement