Visit Uluru–Kata Tjuta National Park on a 2-day tour of Uluru (Ayers Rock) and Kata Tjuta (the Olgas), including your choice of accommodation at Ayers Rock Resort. Travel one way by luxury coach from Alice Springs and enjoy a sunset viewing while sipping a complimentary glass of wine. Awake before dawn to experience the majesty of the monolith at sunrise. You'll explore the rock domes of neighboring Kata Tjuta, take a walk into Walpa Gorge and view ancient rock art Mutitjulu waterhole.
Highlights
See the changing colours of Uluru on this great 2-day explorer. Tour starts in Alice Springs and concludes in Uluru (Ayers Rock)
See the sunrise over Uluru
Visit the majestic Walpa Gorge
Tour the base of Uluru
Guided walk to the Mutitjulu waterhole
Recent Photos of This Tour
What You Can Expect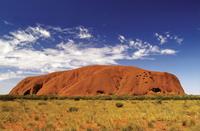 Your 2-day tour of Uluru–Kata Tjuta National Park begins with one-way coach transport from your Alice Springs hotel. En route, you'll drive through the MacDonnell Ranges and stop at a camel farm, where there is time to take an optional camel ride if you wish (own expense). Select from several accommodation options at Ayers Rock Resort, and enjoy guided walking tours along the base of Uluru (Ayers Rock) and through Kata Tjuta (the Olgas). Don't miss the fabulous sunset and sunrise viewing in the Australian Outback, including wine and tea or coffee.
Itinerary
Day 1: Alice Springs
– Uluru (Ayers Rock)
Travel from Alice Springs to Uluru (Ayers Rock) aboard a luxury coach. Take in the rugged desert landscapes of the region, passing through the beautiful MacDonnell Ranges. Stop at the Camel Farm and learn about the impact camels had in opening up Central Australia. Camels, ideally suited to the hot, dry climate of Australia's interior, were imported in the 19th century and remained the principal means of outback transport until railways and roads were established. You have the opportunity to ride a camel (own expense). While traveling through this remote country, your friendly Driver/Guide will provide an informative and entertaining commentary. Learn the natural and geological history of the region, as well as the unique Australian desert flora and fauna such as the Perentie monitor lizard, the thorny devil and the red kangaroo. Hear about the traditional customs and beliefs of the local Aboriginals. There is time for stop at Mt Ebenezer road house for a quick break. View flat-topped Atila (Mt Conner) in the distance before arriving at Ayers Rock Resort rested, relaxed and ready to explore the amazing World Heritage-listed Uluru-Kata Tjuta National Park.
This afternoon travel around the base of Uluru in comfort as your Driver Guide provides commentary about the numerous sacred sites and features to be found at Uluru. Continue by coach to the Kuniya Walk where your Driver Guide will escort you to the beautiful Mutitjulu Waterhole. View Aboriginal rock paintings and learn about the area as your Driver Guide points out some native flora and explains the Aboriginal and European history of Uluru. Later visit the Uluru – Kata Tjuta Cultural Centre, where you can learn about Aboriginal culture and see Aboriginal arts and crafts.
In the late afternoon, travel to the Uluru sunset viewing area. Witness the striking color changes of Uluru at sunset while enjoying canapés and a complimentary glass of wine.
Overnight: your selected accommodation at Ayers Rock Resort

Day 2: Uluru (Ayers Rock) & Kata Tjuta (Olgas)
Rise early this morning to travel to the Uluru sunrise viewing area. Watch the first rays of the sun set the Red Centre alight while enjoying a warming cup of tea or coffee. Then travel to the mystical 36 domes of Kata Tjuta. On the way enjoy panoramic views of the southern side of Kata Tjuta before arriving at the base of Walpa Gorge. Spend some time exploring the gorge and the unusual conglomerate rock formations. The walking trail through Walpa Gorge follows the natural creek between two of the tallest domes of Kata Tjuta. Return to Ayers Rock Resort.
In the afternoon you will be transferred to Ayers Rock Airport for your flight.
Accommodation categories:
Outback Pioneer Lodge (Budget)
The Outback Pioneer Lodge has a true outback, pioneering atmosphere that gives our guests a real taste of traditional Australian hospitality. Cook up some outback delights on the barbecue or come and share a few yarns about your adventures in the Red Centre over a beer and some hearty bush tucker in the Bough House Restaurant.

Desert Gardens Hotel (Standard)
Set amidst magnificent ghost gums and flowering native shrubs, the recently refurbished Desert Gardens hotel offers a range of stylish accommodation. Desert Gardens is the superior hotel at Ayers Rock Resort and is centrally located to all resort and touring facilities.

Sails In The Desert (Superior)
Sails in the Desert is the premier hotel at Ayers Rock Resort, with spacious, airy and exquisitely furnished rooms set in lush park-like grounds. Deriving its name from the distinctive sail-like structures, which provide shade and a touch of elegance to its design, Sails in the Desert is the ultimate in luxury in the Red Centre.
Due to operational requirements, hotels are subject to change by the tour operator without notice.
Hotel Pickup List:
06:15 - A Good Rest B&B
06:55 - Alice in the Territory
06:15 - Alice Lodge Backpackers
06:35 - Alice Motor Inn
06:40 - Alice on Todd
06.35 - Aurora Alice Springs
06.25 - Chifley Alice Springs Resort
06:45 - Desert Palms Resort
06:35 - Desert Rose Inn
06:30 - Diplomat Motel
06:50 - DoubleTree Hilton Alice Springs
06:30 - Elkira Motel
06:55 - G'Day Mate Caravan Park
06:20 - Haven Backpackers
06:55 - Heavitree Gap Outback Lodge
06:55 - Heritage Caravan Park
06:40 - Ibis Styles Oasis
06:55 - Lasseters Casino Hotel
06:55 - MacDonnell Ranges Caravan Park
06:15 - Mount Nancy Motel
07:00 - Pathdorf Bed & Breakfast
06:40 - Quest Apartments
06:15 - Stuart Caravan Park
06:40 - Swagmans Rest Motel
06:35 - Todd Tavern
06:40 - Toddy's Resort
06:40 - Wintersun Caravan Park
06:15 - Vatu Sanctuary
April 2016
The tour was really good. The bus driver was very friendly and nice. Acommodation was really good.
The only problem i have found in this tour is that the return option is not available and you have to book it separate. This should be offered as an option as well.
April 2013
One in every aspect good trip with a good driver guide ! Nice coffee, cookies time while waiting for the sun ! Go for it !
April 2013
Very well organised trip ! A bit of a disappointment as the sun set took place in the clouds ! For the rest very well organised with well doing guides !!! Nice sundowner time ! A must trip !
October 2015
Edward W USA
October 2008
We needed a tour that would get us from Alice Springs to Ayers Rock and allow us to explore the rock. This one fit the bill nicely. It's a long, approximately 6-hour journey from Alice Springs to Ayers Rock on one long straight road through the desert with a couple of stops. One stop allows you to ride a camel, which I thoroughly recommend! The driver was quite informative, giving you information as you go. The sightseeing around the Olgas and Ayers Rock was great. The sunset and sunrise were a really memorable experience. We also enjoyed the partial hike around the base of the rock, for which the bus driver tells you about the Dreamtime Aboriginal stories related to the rock. Our only disappointment is that we thought the tour might be lead by an Aborigine, but we only saw a few the entire time we were in Ayers Rock.
Richard B Australia
August 2008
This tour was very good.
Carolyn O USA
August 2008
There was not much to see along the way, but the bus driver was great.
Fred W USA
May 2009
The rock was much less than expected but perhaps that is because I come from Arizona and we have the Red Rock area of Sedona, far more spectacular, and the Grand Canyon. The tour was boring. So we just skipped the morning part. Worst of all we were not aware that booking the outback pioneer meant walking a long distance outdoors to a toilet. We paid to upgrade. So do not book the outback if you don't want to walk in the dark to facilities!
December 2013
too expensive with no food and no drink
Advertisement
Advertisement