Experience the majestic, Dreamtime landscapes of Australia's Red Centre with this 3-day tour from Alice Springs to Ayers Rock. Witness an unforgettable sunset and sunrise over Uluru and explore the mythical formations of Kata Tjuta. Take an optional camel ride, explore Aboriginal history at the Mutitjulu waterhole and take a guided walk along the spectacular rim of Kings Canyon. Travel aboard a comfortable coach, and choose from three different accommodation options to suit your style.
Highlights
Three-day tour from Alice Springs to Uluru and Kata Tjuta
Driving through the vast open spaces of Outback Australia
Ride a camel (own expense)
Guided walks at Uluru and Mutitjulu Waterhole
Learn about the Aboriginal Tjukurpa (Dreaming) and see ancient rock art
Witnessing the sun set and rise over Uluru
Guided walk to the rim of Kings Canyon
Choice of easy or challenging walks
Recent Photos of This Tour
3-Day Alice Springs to Uluru (Ayers Rock) via Kings Canyon Tour
What You Can Expect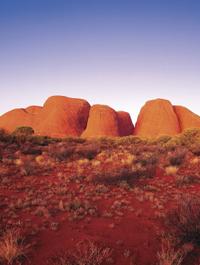 Journey across the legendary Outback of Australia's Northern Territory on this 3-day, 2-night tour that begins and ends in Alice Springs. Travel aboard a comfortable air-conditioned coach through the remote desert landscape, keeping your camera handy for views of ancient formations like the West MacDonnell Ranges and the Atila (Mt Connor) mesa.
Visit the Outback Camel Farm for a chance to ride one of these 'ships of the desert' (own expense) and take a guided tour to Kata Tjuta and Walpa Gorge. Witness the magnificent colors of both sunset and sunrise over sacred Uluru, and learn about Aboriginal history at the Uluru-Kata Tjuta Cultural Centre. For a grand finale, take a guided walk to the rim of Kings Canyon and soak in the awe-inspiring views.
See Itinerary below for a more detailed description of each day's activities and accommodation options.
Itinerary
Day 1: Alice Springs - Uluru (Ayers Rock)
Depart Alice Springs and travel through the remote Outback landscapes past the West MacDonnell Ranges. This ancient, twisted range is thought to be the oldest in Australia. Stop to visit the Outback Camel Farm, where you'll have the opportunity to try riding one (own expense). Stop to view the flat-topped Mt Conner before arriving at Ayers Rock Resort. Take a tour to the base of Uluru with your guide. Travel to Mutitjulu waterhole, where you can see cave paintings and hear the legends of Python Dreaming. Visit the Uluru-Kata Tjuta Cultural Centre to learn more about the indigenous history and culture, and see traditional arts and crafts on display. Enjoy a complimentary glass of wine and watch the golden rays of the setting sun strike Uluru.

Day 2: Uluru Sunrise - Mutitjulu Waterhole - Uluru Climb - Kings Canyon
Rise early and witness the day's first light striking Uluru. Warm up with a coffee or tea as you take in the quiet of the Australian Outback. Join a tour to Kata Tjuta and walk into Walpa Gorge, where you may spot ancient stone carvings. In the early afternoon, travel by luxury coach through spectacular desert scenery on your way to Kings Canyon Resort. Pass through Curtin Springs cattle station before viewing Atila (Mt. Conner) from the coach.

Day 3: Kings Canyon Guided Rim Walk - Alice Springs
Enjoy a guided walk along the rim of Kings Canyon and through the 'Lost City' and 'Garden of Eden' (requires a good degree of fitness). See the towering walls and unique plant life. An alternative easy walk along the canyon floor is also available. In the afternoon, travel through the vast cattle properties of Central Australia, stopping at Kings Creek Station before arriving at your hotel in Alice Springs.

Accommodation Options:
Outback Pioneer Hotel (Budget) - The Outback Pioneer Lodge has a true outback, pioneering atmosphere that gives guests a real taste of traditional Australian hospitality. Cook up some Outback delights on the barbecue or come and share a few yarns about your adventures in the Red Centre over a beer and some hearty bush tucker in the Bough House Restaurant.

Desert Gardens Hotel (Standard) - Set amidst magnificent ghost gums and flowering native shrubs, the recently refurbished Desert Gardens hotel offers a range of stylish accommodation. Desert Gardens is the superior hotel at Ayers Rock Resort and is centrally located to all resort and touring facilities.

Sails In The Desert (Superior) - Sails in the Desert is the premier hotel at Ayers Rock Resort, with spacious, airy and exquisitely furnished rooms set in lush park-like grounds. Deriving its name from the distinctive sail-like structures, which provide shade and a touch of elegance to its design, Sails in the Desert is the ultimate in luxury in the Red Centre.
Due to operational requirements, hotel options are subject to change by the tour operator without notice.
Hotel Pickup List:
06:15 - A Good Rest B&B
06:55 - Alice in the Territory
06:15 - Alice Lodge Backpackers
06:35 - Alice Motor Inn
06:40 - Alice on Todd
06.35 - Aurora Alice Springs
06.25 - Chifley Alice Springs Resort
06:45 - Desert Palms Resort
06:35 - Desert Rose Inn
06:30 - Diplomat Motel
06:50 - DoubleTree Hilton Alice Springs
06:30 - Elkira Motel
06:55 - G'Day Mate Caravan Park
06:20 - Haven Backpackers
06:55 - Heavitree Gap Outback Lodge
06:55 - Heritage Caravan Park
06:40 - Ibis Styles Oasis
06:55 - Lasseters Casino Hotel
06:55 - MacDonnell Ranges Caravan Park
07:00 - Pathdorf Bed & Breakfast
06:40 - Quest Apartments
06:15 - Stuart Caravan Park
06:40 - Swagmans Rest Motel
06:35 - Todd Tavern
06:40 - Toddy's Resort
06:40 - Wintersun Caravan Park
06:15 - Vatu Sanctuary

March 2016
Excellent Tour, The guides were all very knowledgeable and very helpful.
January 2016
Great tour to iconic locations with enthusiastic and well-informed driver/guide.
November 2015
My wife and I really enjoyed this tour, the guides and drivers were excellent and full of information. The tour meant that we got to see a lot in a small amount of time which was great and we even managed to squeeze in a helicopter trip over Uluru which I would highly recommend as well. We chose the First class option and thought all the accommodation was just that, first class very clean and comfortable. They were an exceptional tour company and would highly recommend to anyone looking to tour NT.
March 2015
Our bus driver , john was very good. Accomodations were excellent.
December 2014
Everthing went very smoothly. always on time,and guides and bus drivers very good.
December 2014
Great tour and fully recommend it.
November 2014
Well-planned itinerary which gives good experience of the "red center". Great sunset (wine table) and sunrise viewings. AAT Kings is a well-organized tour operator with comfortable buses and capable driver/guides. Special mention for driver Phil, good English easy to understand, with excellent knowledge of flora, fauna and indigenous customs, the Kings Canyon floor walk was a pleasure.
It isn't clear what "Budget Accomadation" at Kings Canyon means -- shared accomodation is not really shared, it is a room with no facilities, the toilet and washroom is 20meters away in a separate block. Really for backpackers, which the descriptiom doesn't make clear.
June 2013
Loved the Sunrise at Uluru and the sunset too. On different days. At the sunrise they had hot drinks and cookies. At the sunset wine and chips and dips. So unexpected and well done. Totally enjoyed the hikes through the canyon and outback. The guide was so knowledgeable and answered all questions. We also saw a demonstration by Aboriginese on the use of tools and other implements. Just fascinating. I also purchased an original painting. Just beautiful. Great trip. Well planned and run. The Hotels were also great. No complaints had a great time.
December 2012
Excellent tour that provides the opportunity to admire both the natural wonders of Red Centre and the aboriginal culture. Kings Canyon offer the most spectacular views.
Dorothy H USA
August 2012
The trip to Kata Juka and Ayers Rock on the the second day of the tour was wonderful. The Rock is quite a sight and the guide who conducted the tour of the base was outstanding. We enjoyed seeing Kata Juka almost more than Ayers Rock. The King's Canyon tour was equally as interesting and the sights just as awesome. The two hotels (Sails in the Desert and the King's Canyon Lodge) were both as good as described with beautiful rooms and comfortable beds. Unfortunately the area is in the middle of nowhere and, as a result, the food was outrageously expensive though it was good.
Advertisement
Advertisement