See the best of the Red Centre on a three-day camping safari from Alice Springs. Discover the heart and soul of this rugged country, with Dreamtime legends, panoramic landscapes and stunning natural beauty. See Uluru (Ayers Rock) change color in the sunrise, be awed by the grandeur Kings Canyon and marvel at the round domes of Kata Tjuta (The Olgas), as you camp out for a true outback experience.
Highlights
3-Day camping safari of the Australian outback
Explore the base of Uluru with a guided walk

Enjoy a morning walk around Uluru (Ayers Rock)
Admire the breathtaking sunrise and formations of Kata Tjuta

Take a guided hike through the Valley of the Winds

Discover the Lost City and the Garden of Eden on a Kings Canyon hike

Recent Photos of This Tour
What You Can Expect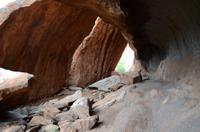 Day 1: Alice Springs or Ayers Rock Airport to Yulara (LD)
Travel from Alice Springs on your adventure to the 'Red Centre', visiting the Outback Camel Farm on the way. Hear the tale of how camels arrived in Australia to serve as transport for construction and colonization. Take a short camel ride through the bush (at own expense), before traveling to the permanent campsite in Yulara where you are able to explore the 36 magical domes of Kata Tjuta. Then take a 5-mile (8-kilometer) hike through the spectacular Valley of the Winds canyon, home to the mythical cork-tree women and unique flora and fauna. Enjoy a glass of sparkling wine as the sun sets over the countryside and the 'rock' changes color. A delicious dinner will be awaiting you upon your return to camp.
Camp: Ayers Rock Resort - Permanent Campsite

Day 2: Uluru to Kings Canyon Region (B, L, D)
It's an early rise for an exciting morning with breathtaking views of the sunrise at Uluru. Then, wander the base of Uluru with a local guide and discover the hidden caves and ancient rock paintings depicting stories from the Dreamtime. You will then be given the opportunity to purchase Aboriginal arts and crafts at the Cultural Center before traveling to the exclusive campsite within the Watarrka National Park (Kings Canyon).
Camp: Kings Canyon Region - Permanent Campsite

Day 3: Kings Canyon Region to Alice Springs (B,L)
Discover the Lost City and Garden of Eden on a 4.3-mile (7-kilometer) hike along the rim of the canyon. See spectacular gorges with towering sandstone cliffs and endless views over the countryside. Finish up with a refreshing swim in a waterhole before traveling back to Kings Creek Station for lunch and then onto Alice Springs where the tour ends.
Itinerary
Airport pickup information from 4th October 2015 to 2nd of April 2016

Qantas (QF1851) at 9:40/9:50am
Please take the free shuttle to Desert Gardens hotel, Ayers Rock Resort and wait outside for pickup at 1:10pm

Jetstar (JQ664) at 11:20am
Please take the free shuttle to Desert Gardens hotel, Ayers Rock Resort and wait outside for pickup at 1:10pm

Virgin (VA1627) at 12:15pm
You will be collected from Ayers Rock airport at 1pm. Please collect your bags and wait outside for your tour bus to arrive.

Jetstar (JQ660) at 12:35/12:40pm
You will be collected from Ayers Rock airport at 1pm. Please collect your bags and wait outside for your tour bus to arrive.

Qantas (QF1941) at 2:50pm
No pickup available

September 2015
A fabulous tour and definitely a highlight of our whole trip to Australia! Ross was a great tour leader, he took everything at a great pace, patient and was extremely knowledgeable. I love that he has only just started this job and it definitely was the right career change! A huge thank you to him.
It would be good to have clearer instructions in advance from Viator about baggage limitations especially if you are joining the tour in Ayres Rock and therefore travelling with a lot of luggage and no where to store it apart from on the bus. It seems to be very strict but after contacting the ground handler directly, this wasn't a problem and we were allowed our 2 large suitcases.
June 2015
Fantastic tour - excellent guide, excellent sites, great group, everything very good
October 2014
Excellent tour - our guide was Teagan with Brooke under training. Teagan was one of the best guides we've ever had and made the trip interesting and informative. We loved hearing about her life experiences which enhanced our experience and understanding of the culture. Highly recommended despite having to get up at 4am for the walks!
July 2014
this was the best tour ever, our guide " Keith" was full of knowledge, the camping facility was the best, no crawling into a tent but walking into a nice little cabin with 2 single beds with blankets, pillows and towels waiting for us. The food was great. If you want to learn and discover what is central Australia this is the tour you need to take, from Uluru to Kings Canyon and everything in between, you wont regret any minutes. Everything was very well organise, good management of our time. No regret. I Highly recommended this tour.
April 2015
Very well organised tour, food wasn't great but ok. Tents were great, some mattrasses need replaceing as the springs have gone. Sleeping in swags was great.
December 2013
The trip was very enjoyable and well organised. Our guide Matt was very knowledgeable , unfortunately on our way back to Alice Springs our bus got stuck in some sand and we were transferred onto another bus and were several hours late back in Alice Springs.
September 2013
Excellent tour guide (Keith) who was enthusiastic, entertaining and very knowledgable; providing many interesting facts and talking to us about interesting features, such as plants that have functions in the environment you'd never know about. The food was excellent and exceeded expectations for this kind of tour. The accomodation/sites were exactly what I was hoping for considering it was a camping trip.
Advertisement
Advertisement