Camp at Kings Canyon and Ayers Rock Resort on a 3-day tour of Australia's Red Centre. Marvel at the domes of Kata Tjuta (the Olgas); see the sunset and sunrise at Uluru (Ayers Rock) and take a base walk with a local guide; and explore the Lost City and Garden of Eden in Watarrka National Park. See rugged Outback landscapes, enjoy prepared meals and sleep overnight at permanent campsites: select a basic option (Explorer) or upgrade (Safari). Round-trip transport is included from Alice Springs or Ayers Rock.
Highlights
3-day camping safari of the Australian outback
Explore the base of Uluru (Ayers Rock) on a guided morning walk

Admire the breathtaking sunrise and formations of Kata Tjuta

Take a guided hike through the Valley of the Winds

Discover the Lost City and the Garden of Eden on a Kings Canyon hike

Select the Explorer option for basic camping, or upgrade to the Safari experience, including beds with linens plus coffee and wine
Recent Photos of This Tour
What You Can Expect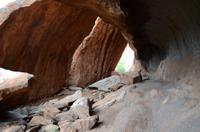 Your 5-day tour of Ayers Rock (Uluru), the Olgas (Kata Tjuta) and Kings Canyon (Watarrka National Park) includes two camping options in permanent campsites. See Itinerary below for a description of each day.
Explorer (Basic)
The Explorer option provides a twin-share tent equipped with simple camp mattresses. Sleeping bags are required — you can either bring your own or purchase one from the tour operator. A swag (bedroll) is available for those wishing to sleep under the stars. Shared bathroom facilities with hot water are available nearby, and meals are freshly prepared in a screened camp kitchen. Participants are expected to assist with food preparation, dishwashing, firewood collection, and campsite tidying.
Safari (Upgrade)
Upgrade to the Safari option for a spacious twin-share or solo tent with a light or lantern provided. Enjoy the comfort of proper beds with mattresses and full linen provided, including pillows and towels. Shared bathroom facilities with hot water are available nearby. Excellent meals are prepared for you, so you can simply relax and soak up the scenery. In addition, enjoy freshly brewed coffee with breakfast and local Australian wines with dinner.
Itinerary
Day 1: Alice Springs – Uluru
(L,D)
Travel from Alice Springs on your adventure to the 'Red Centre,' visiting the Outback Camel Farm on the way. Hear the tale of how camels arrived in Australia to serve as transport for construction and colonization. Take a short camel ride through the bush (own expense), before traveling to the permanent campsite at Ayers Rock Resort. Alternatively, you'll be picked up from the Ayers Rock airport or Desert Gardens Hotel.
Explore the 36 magical domes of Kata Tjuta (the Olgas) with your guide. Then
take a 5-mile (8-km) hike through the spectacular Valley of the Winds canyon, home to the mythical cork-tree women and unique flora and fauna. Enjoy a glass of sparkling wine as the sun sets over the countryside and Uluru (Ayers Rock) changes color. A delicious dinner will be awaiting you upon your return to camp.
Overnight: p
ermanent campsite
at
Ayers Rock Resort

Day 2: Uluru – Kings Canyon Region (B, L, D)
It's an early rise for an exciting morning with breathtaking views of the sunrise at Uluru. Then, wander the base of Uluru with a local Aboriginal guide and discover the hidden caves and ancient rock paintings depicting stories from the Dreamtime. You will then be given the opportunity to purchase Aboriginal arts and crafts at the Cultural Center before traveling to the exclusive campsite within Watarrka National Park (Kings Canyon).
Please note: The Anangu, Uluru's traditional owners, would prefer that visitors not climb Uluru.

Overnight: p
ermanent campsite
at
Kings Canyon
Day 3: Kings Canyon – Alice Springs
(B, L)
Discover the Lost City and Garden of Eden on a 4.3-mile (7-km) hike along the rim of Kings Canyon. See spectacular gorges with towering sandstone cliffs and endless views over the countryside. Finish up with a refreshing swim in a waterhole before traveling back to Kings Creek Station for lunch and then onto Alice Springs where your tour ends.
April 2016
Really enjoyed this tour. This was one of the highlights of my Aus. travel. The air conditioned coach was newer than most similar tour buses and comfortable which was just great because it's extremely hot in the outback. The driver/guide was very affable and knowledgeable and passengers were an international mix from UK, Germany, S.Africa, Norway, S.Korea and all got on very well. The camping is really glamping with proper beds however, If you wanted to sleep under the stars I think that could be accommodated. The early mornings start at 4.30-5.00am because it is the coolest time of the day to start the hikes around Uluru and Kings Canyon. If you do not feel up to long walks there are options to take the shorter routes so the trip does cater for all fitness types. All good, thanks
September 2015
A fabulous tour and definitely a highlight of our whole trip to Australia! Ross was a great tour leader, he took everything at a great pace, patient and was extremely knowledgeable. I love that he has only just started this job and it definitely was the right career change! A huge thank you to him.
It would be good to have clearer instructions in advance from Viator about baggage limitations especially if you are joining the tour in Ayres Rock and therefore travelling with a lot of luggage and no where to store it apart from on the bus. It seems to be very strict but after contacting the ground handler directly, this wasn't a problem and we were allowed our 2 large suitcases.
June 2015
Fantastic tour - excellent guide, excellent sites, great group, everything very good
October 2014
Excellent tour - our guide was Teagan with Brooke under training. Teagan was one of the best guides we've ever had and made the trip interesting and informative. We loved hearing about her life experiences which enhanced our experience and understanding of the culture. Highly recommended despite having to get up at 4am for the walks!
July 2014
this was the best tour ever, our guide " Keith" was full of knowledge, the camping facility was the best, no crawling into a tent but walking into a nice little cabin with 2 single beds with blankets, pillows and towels waiting for us. The food was great. If you want to learn and discover what is central Australia this is the tour you need to take, from Uluru to Kings Canyon and everything in between, you wont regret any minutes. Everything was very well organise, good management of our time. No regret. I Highly recommended this tour.
April 2015
Very well organised tour, food wasn't great but ok. Tents were great, some mattrasses need replaceing as the springs have gone. Sleeping in swags was great.
December 2013
The trip was very enjoyable and well organised. Our guide Matt was very knowledgeable , unfortunately on our way back to Alice Springs our bus got stuck in some sand and we were transferred onto another bus and were several hours late back in Alice Springs.
September 2013
Excellent tour guide (Keith) who was enthusiastic, entertaining and very knowledgable; providing many interesting facts and talking to us about interesting features, such as plants that have functions in the environment you'd never know about. The food was excellent and exceeded expectations for this kind of tour. The accomodation/sites were exactly what I was hoping for considering it was a camping trip.
Advertisement
Advertisement