Camp in the Outback on this 5-day tour of Australia's Red Centre, departing from Alice Springs. Travel by 4WD vehicle to Uluru (Ayers Rock), Kata Tjuta (the Olgas), Kings Canyon and the West MacDonnell Ranges. Swim in rock holes, take guided walks, and see the monoliths at sunrise and sunset. On a visit to the Oak Valley Aboriginal Community, you'll witness ancient cave paintings and hear storytelling by Aboriginal guides. Enjoy campfire meals and sleep under the stars in private bush camps on this small-group tour, limited to 16 people.
Highlights
5-day 4WD outback camping tour from Alice Springs

Watch Uluru (Ayers Rock) change color at sunset, and see the sun rise over Kata Tjuta
Visit the Oak Valley Aboriginal Community, and swim in rock pools

See ancient cave paintings and carvings, and admire the stunning West MacDonnell Ranges

Take guided walks around Uluru, Valley of the Winds, Watarrka and Ghost Gum Walk, and learn about Aboriginal traditions from your guide and hosts

Enjoy campfire dinners and sleep under the stars at bush camps

Small-group tour with maximum 16 people provides a more intimate experience

What You Can Expect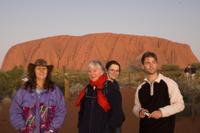 Travel from Alice Springs to the Red Centre of Australia on this 5-day camping expedition. Bump along off-road bush tracks in your 4WD vehicle, custom-built for the rugged terrain of the Outback. Explore the iconic natural landmarks of Uluru–Kata Tjuta and Watarrka National Parks along with the West MacDonnell Ranges on this small-group tour with informative guides.
You'll spend four nights camping in a comfortable swag (water-resistant camp bed) at private bush camps, including the Oak Valley Aboriginal Community and Glen Helen. Enjoy dinner cooked over the campfire, hear Dreamtime stories and fall asleep under myriad stars in the magnificent desert sky.
Itinerary
Day 1: Alice Springs – Uluru (L, D)
On your first day, travel either from Alice Springs or Ayers Rock Resort or Airport to Uluru–Kata Tjuta National Park. The 270-mile (450-km) journey by 4WD vehicle passes through the desert heartland of Australia, with stops along the way for refreshments, a chance to ride a camel (own expense) and to purchase authentic paintings, traditional wood carvings and jewelry made by people from the bush.
In the afternoon, experience Uluru, where your guide will lead you on a full base walk around this incredible natural wonder. Later, witness awe-inspiring Uluru at sunset and watch as the fading light bathes the rock in shades of color, from pink to mauve.

Overnight: Campsite in Uluru–Kata Tjuta National Park

Day 2: Uluru – Kings Canyon (B, L, D)
On your second day, enjoy a stunning sunrise over Uluru and Kata Tjuta from a lookout close to the campsite. After breakfast, take a 3-hour walk through Kata Tjuta and the magnificent Valley of the Winds. After lunch, travel to Curtin Springs and see a working cattle station before arriving in Kings Canyon. Feel the true sense of the Outback with a campfire dinner under the millions of stars twinkling in the night sky.

Overnight: Campsite in Kings Canyon

Day 3: Kings Canyon – Oak Valley (B, L, D)
Enjoy a leisurely start to the day before embarking on a 3-hour walk through the towering walls, crevices and plateaus of Watarrka National Park. See the Amphitheatre and Lost City and take a dip in the tranquil Garden of Eden. Later, travel across the famous Hugh River Stock Route to reach the Oak Valley Aboriginal Community. You'll camp here for the night; while enjoying dinner, be entranced by stories told by your Aboriginal hosts.

Overnight: Campsite in Oak Valley Aboriginal Community

Day 4: Oak Valley – Glen Helen (B, L, D)
This morning, take a guided tour of Oak Valley with your Aboriginal hosts. Listen as the stories and legends passed down through generations come to life in the ancient rock paintings and carvings. Then, travel back along the Hugh River Stock Route to the West MacDonnell Ranges. Stop at Ormiston Gorge to hike the 'Ghost Gum Walk' and take a refreshing swim in the beautiful rock pools. Visit Glen Helen, an oasis in the desert, before making your way to the campsite for another relaxing night in the Outback.

Overnight: Campsite in Glen Helen

Day 5: Glen Helen – Alice Springs (B, L)
On your last day, enjoy breakfast and head to Hermannsburg, a historical Lutheran mission established in 1877. Stop to view Gosse Bluff, a comet crater, before arriving at the mission to explore the buildings and grounds. Then, it's off to Palm Valley (subject to track conditions) for lunch, followed by a hike to explore this unique area that was once a rainforest. Return to Alice Springs early in the evening to conclude your tour.

February 2016
Great experience, impressive landscapes and Aboriginal sites adventurous to sleep in tents and swags again, well informed guide: on culture, history and geology - also an excellent cook and highly efficient.
February 2016
A great trip from start to finish. A small group of 16, myself 24, one other English traveler 28, two younger couples 28-30 and then everyone else in couples 40-65. Mostly Eastern European's Swiss, German, French. The group really bonded and by the end of the 5 days it was sad to say goodbye. The sights are great, but the group dynamics made the trip equally fantastic.
So many fantastic sights, Uluru Ayers Rock, Kata Tjuta The Olges, Kings Canyon, Ormiston Gorge, all equally fantastic. Everyone knows about Ayers Rock, but the other sights are equally fantastic and not to be missed, this trip takes you to all. Final day, the opportunity to meet an local Aboriginal and have a guided tour of their land, very interesting and informative.
Nick, the guide, had excellent knowledge, was extremely friendly and with limited cooking resources, prepared some fantastic and delicious evening meals.
Accommodation is, for the first three nights, the option of permanently erected tents and the last night is a swag under the stars. There is basic shower facilities at campsites, which do the job required.
Some early starts to allow you to complete the walks in the cooler part of the day, but the early start is more than worth it for the fantastic parts of land that you walk on and views that you see.
All in all, a brilliant trip from start to finish, and is well worth going on to see the centre of Australia!
September 2014
I really enjoyed this tour and would happily recommend it. Our tour guide was wonderful and kept everyone happy with his enthusiasm, consideration, knowledge of the sites we visited, pleasant disposition, plus his organisational skills generally.
We helped with food prep, clean up, firewood collection but nothing too onerous. We stayed at simple but well maintained private camp sites. 3 of the 4 had permanently erected tents, while on the last night we slept in swags under the amazing night sky.
The group was made up of mixed nationalities and ages, and this worked well - I was a little concerned that I would not be fit enough (in my fifties in a sedentary job) but I managed the walks OK and I enjoyed the company too.

Bear Bouncer USA
December 2013
This trip was over the top....GREAT! It couldn't have been any better. Our guide, Jenner (sorry dude if I mispelled your name!), was exceptionally knowledgeable about history, geology, indigenous cultures, dream stories, plants, animals and birds. He is also an exceptional cook, cooking our healthy and fresh dinners over a nightly campfire. Jenner truely loves being a guide, cook, safe driver, and sharing his love and knowledage of the outdoors and of this particular part of the world....the Australian Outback, with fellow travellers. Jenner has a keen respect and knowledge of the aboriginal cultures. There were 13 fellow participants on this trip and we all felt the same way....it was a super special experience and Jenner had a lot to do with making that happen. Options were always provided for participants regarding length of hikes; accomodating everyone and being safe too. I just can't say enough about this trip, the tour company (Way Outback Adventures...I met the owner and told him how fortunate he is to have such a superb guide/driver), our guide Jenner, the accomodations (swags or tents), the quality of the food, and the itinerary. THANK YOU ALL FOR MAKING THIS AN ABSOLUTELY FANTASTIC TRIP!
May 2016
This trip is a must for anyone visiting the Aussie Bush! Our tour guide Adz and his assistant K were perfect. They both had a great knowledge of the Bush and the Aboriginal people and made the trip even more fun. The trip is fast paced but that is unavoidable.
Advertisement
Advertisement